Gold Isn't the Safe Haven Investors Thought It Would Be
Biggest weekly price drop in month defies bet on gains

Bullion volatility jumps in tandem with equity turbulence
Gold bulls piled into the metal in hopes that the turmoil sweeping financial markets would finally help revive prices. They were wrong.
Instead of a rally, futures in New York fell for four straight sessions even as global equities plunged to a two-year low. Rather than providing a refuge from the meltdown, gold's volatility rose right along with a measure of equity turbulence, diminishing its appeal as a haven. As stocks started to recover, the metal kept falling because of reports that signaled gains for the U.S. economy.
It's been a tough two years for investors in gold, which first fell into a bear market in April 2013. More than $52 billion has been wiped from the value of physical bullion funds since then. Money managers last week raised their net-long position to the highest since June just before futures capped the worst slump in a month. Stubbornly low inflation along with the prospect of tighter U.S. monetary policy has kept a lid on the metal, which doesn't pay interest or offer returns, unlike competing assets.
"A good test for gold was the latest round of volatility, and gold did not do much, since it has become unattractive as a safe haven," said Atul Lele, who helps oversee $5.1 billion as the chief investment officer at Nassau, Bahamas-based Deltec International Group.
Price Slump


Futures fell 2.2 percent last week to $1,134 an ounce on the Comex, the biggest drop since July 24. The MSCI All-Country World Index of equities rose 0.5 percent, while the Bloomberg Dollar Spot Index advanced 0.7 percent. The Bloomberg Commodity Index jumped 1.8 percent. Bullion for December delivery declined 0.1 percent to $1,132.50 an ounce on Monday in New York.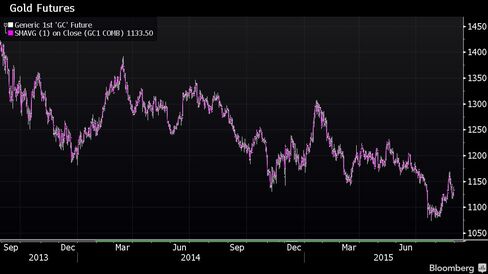 Speculators more than tripled their net-bullish position to 44,271 futures and option contracts in the week ended Aug. 25, according to Commodity Futures Trading Commission data released three days later. Long holdings rose for a third straight week, the longest run since January.
The Federal Reserve will probably push ahead to raise interest rates this year even after China's surprise yuan devaluation this month that triggered global growth concerns and a selloff in equities, RBC Capital Markets' Stephen Walker said in an Aug. 23 report. Walker, the most-accurate gold forecaster last quarter in rankings compiled by Bloomberg, expects prices to remain weak in 2015 and cut his forecast for the second half of this year by 13 percent to $1,125.
Even as the U.S. economy has proven to be resilient, Fed policy makers will have to contend with a weaker global-growth scenario. The world equity rout has lowered expectations for a quick rate rise, with traders as of Friday pricing in a 38 percent chance that policy makers will tighten at their September meeting. That compares with 48 percent two weeks earlier. The metal climbed 70 percent from December 2008 to June 2011 as the U.S. central bank fanned inflation fears as it bought debt and held borrowing costs near zero in a bid to shore up growth.
'Buyers Return'
"Gold will probably see some buyers return after investors realize there will probably be one rate hike this year, and that too, not a very big one," said Dan Denbow, a portfolio manager at the $820 million USAA Precious Metals & Minerals Fund in San Antonio.
Still, gold demand is waning. Holdings in exchange-traded funds backed by the metal have dropped 12 percent over the past year and on Aug. 11 shrunk to the smallest since 2009.
With U.S. inflation languishing below the Fed's 2 percent target, there's little interest in buying gold to hedge against rising consumer prices. A slump in crude oil, which has tumbled more than 50 percent over the past 12 months, has raised concerns that inflation will stay subdued.
"With global growth concerns reemerging, we are seeing fears of deflation everywhere, and gold cannot do well in that kind of scenario," said Jim Russell, a Cincinnati-based portfolio manager at Bahl & Gaynor Inc., which has about $14 billion under management and advisement. "Lack of follow through in gold given the price action in other assets did strike me as a big surprise. As for now, we are staying away from gold."
Before it's here, it's on the Bloomberg Terminal.
LEARN MORE