Middle Eastern Stocks Rally Led by Oman After Oil-Price Rebound
Muscat's MSM30 Index advanced the most since January

Brent crude capped the best week since 2009 on Friday
Omani stocks led a rally in most equity markets across the Middle East after oil prices had the biggest-weekly jump in more than six years.
The MSM30 Index advanced 1.5 percent, the most since January, to 5,904.44 at the close in Muscat. Dubai's DFM General Index climbed 1.1 percent to the highest in more than a week, and Saudi Arabia's Tadawul All Share Index gained as much as 4.6 percent before closing 1.1 percent higher.
Brent crude closed 10 percent higher last week, trading above $50 per barrel after data showed second-quarter growth in the U.S. exceeded economist forecasts, spurring renewed investor optimism over the global economic outlook. The six nations of the Gulf Cooperation Council are home to about 30 percent of the world's proven reserves of oil, the price of which had plunged this month on concern of an oversupply and slowing expansion in China.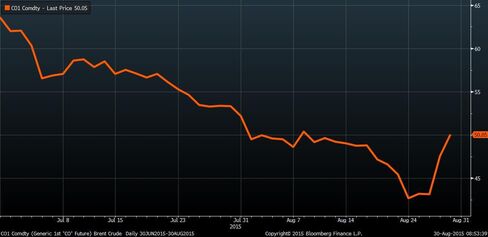 "It's an unbelievable rally considering the battering oil took in the past few weeks," said Wadah Al Taha, the Dubai-based chief investment officer of Al Zarooni Group, who favors investing selectively in regional markets over the short term. "The positive close in international markets, especially with China rallying again and U.S. equities ending the week on a positive note, is also helping sentiment."
'More Clarity'
The Standard & Poor's 500 Index gained 0.9 percent last week, masking a volatile period in which the U.S. benchmark plunged the most since 2011 to enter a correction, only to rally more than 6 percent over two days. The gauge is down 5.5 percent for the month, the most since May 2012.
Saudi Arabia's benchmark equity index entered a bear market last week, and the DFM General Index recorded daily losses of as much as 7 percent and gains of as much as 4.6 percent in the same period. Brent crude closed below $45 per barrel for the first time in six years on Aug. 24.
"There's no doubt that the main reason for the Saudi market rally is the significant increase in oil prices on Friday," said Mohammed Al-Suwayed, the Riyadh-based head of capital and money markets at Adeem Capital. "I'm waiting for the August close on Monday to make sure that there is no retracement in prices, but I'm cautiously optimistic for the rest of the week."
Qatar's QE Index rose 0.4 percent and Kuwait's SE Price Index added 0.5 percent.
Today's moves don't "mean that we are in an uptrend," Al Taha said. "We need more clarity in terms of global economic numbers and stability in oil prices to be able to determine that."
Abu Dhabi's ADX General Index fell 0.2 percent and Bahrain's BB All Share Index slipped 0.1 percent.
Egypt Aid
While Egypt's EGX 30 Index lost 0.3 percent, Emaar Misr for Development, which in June held the country's biggest initial public offering since 2011, climbed 7.8 percent. That pares the stock's loss since its trading debut to 34 percent.
Next month, Saudi Arabia will provide Egypt $2.9 billion of aid in the form of petroleum products and grants for economic development, Al Mal newspaper reported today. North Africa's biggest economy has relied on financial assistance from Gulf Arab allies since a military takeover in 2013.
Israel's TA-25 Index climbed 0.5 percent, led by Nice Systems Ltd. The country's natural gas explorers, including Delek Drilling LP and Avner Oil Exploration LLP, rose following the increase in oil prices, according to Saar Golan, an equities trader at Bank of Jerusalem Ltd. in Tel Aviv.
Before it's here, it's on the Bloomberg Terminal.
LEARN MORE