`Brilliantly Marketed' Banks in Sweden Can't Kill CoCo Doubts
Differing risk-weight practices raise questions about buffers

Swedish banks look best when taking risk-weights into account
Are returns on the riskiest Scandinavian bank bonds painting a false picture of their safety?
The securities in question are additional Tier 1 notes, a form of contingent capital that can absorb losses. Sweden's banks enjoy lower borrowing costs on the debt than banks elsewhere in the region because they are Europe's best capitalized when assets are risk-weighted, creating a perception of extra safety.
But according to Ole Einar Stokstad, head of credit research at DNB Markets, Sweden's approach to risk weighting makes its banks look particularly safe. When capital is measured against unweighted assets, Swedish banks suddenly don't look so good, he says. He's advising clients to examine banks' additional Tier 1 notes with care.
"There's a perception that the Swedish authorities are the toughest on regulation" among Nordic supervisors, Stokstad said in an interview. "It is brilliant marketing." He says Norway's banks are more strictly regulated. "It just doesn't show in the capital ratios because of the higher risk weights."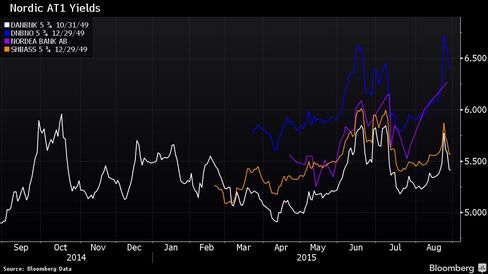 Bid-yields-to-call on Handelsbanken's 5.25 percent bond are about 5.6 percent, while Nordea's 5.25 percent security is returning roughly 6.2 percent, according to data compiled by Bloomberg. That compares with 6.4 percent for DNB's 5.75 percent note.
But the Nordic bank with the highest ratio of capital to unweighted assets is DNB, according to estimates provided by Moody's Investors Service and Bloomberg data. The Oslo-based lender has a tangible common equity ratio of more than 6 percent to total assets.
In contrast, Swedish bank ratios are below 5 percent, with Nordea around 4 percent. Danske also has a ratio of about 4 percent, the data show.
According to Lars Holm, a credit analyst at Danske Bank, part of the reason the yield on DNB's additional Tier 1 is higher than Nordea's and Handelsbanken's is that contingent convertible debt acts much like equity. That means that factors that affect stock prices -- in the case of Norwegian equities, oil is key -- will also affect contingent capital.
"I don't think DNB will lose capital or post deficits, but certainly there is some uncertainty about how large loan losses will be and that should have an impact on AT1s," Holm said. Still, "I can see the point of using the same risk weights."
Swedish regulators acknowledge that the use of risk weights significantly alters the capital picture for the nation's banks. In a June report, the Financial Supervisory Authority said banks are raising their non-risk weighted ratios, which now exceed 4 percent. Still, they warn such an approach can have unwanted consequences.
"A capital requirement insensitive to risk, such as the leverage ratio, creates incentives for banks to increase the riskiness of their assets in order to increase their return on equity," Sweden's FSA said.
CoCos convert to equity or are written down when equity falls below a pre-set threshold. The challenge of how to price them may be complicated further when regulators decide how much loss-absorbing capital banks should hold in total against risk-weighted assets, a ratio that could rise as high as 25 percent.
"The big question for any investor is, at what point of time and according to which criteria is a bank deemed to be failing?" said Tim Skeet, chairman of the investor working group on bail-ins at the International Capital Markets Association. "In AT1 transactions, they were set rather arbitrarily at around 5.125 percent in most cases," and since global and European regulators set capital requirements of 12 to 15 percent, "no bank is going to be allowed to even get close to 5.125 percent."
Since global regulators responded to the financial crisis by imposing stricter capital rules, questions have arisen about how banks are calculating their risk. Bank watchdogs, including the chairman of the Basel Committee on Banking Supervision, Stefan Ingves, have raised concerns that risk weights are being understated in order to cut capital requirements.
According to the Danish mortgage bank industry, banks that are allowed by the country's regulators to use internal models to calculate risk allocate capital for 10 to 15 percent of their mortgage assets, compared with a requirement of 35 percent for banks using standard, regulatory levels.
While individual banks calculate their risk differently, part of the explanation for discrepancies also lies with local regulators. Unlike Swedish banks, Norwegian lenders face a floor on how low they can go when applying risk weights, according to Stokstad.
"It's a puzzle that two small nations, which are neighbors and a part of the European Economic Area, can't agree on how to do this," he said. "The Swedes think they're doing it right and so do the Norwegians."
Before it's here, it's on the Bloomberg Terminal.
LEARN MORE