Thai Police Arrest Foreign Suspect in Deadly Bangkok Bombing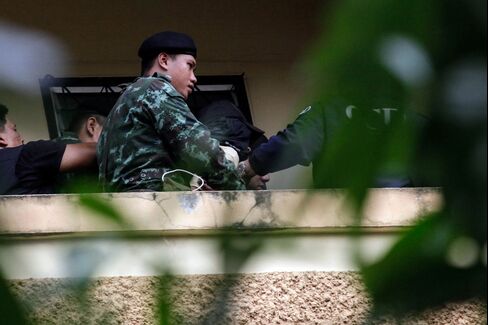 Thai police arrested a foreign man in connection with a deadly explosion in central Bangkok almost two weeks ago after discovering bomb-making materials during a search of an apartment in the capital on Saturday.
The 28-year-old man is being detained by the military and will be charged with possessing explosives, police spokesman Prawut Thavornsiri said in a briefing Saturday, without explaining how the suspect is linked to the Aug. 17 attack.
The blast during evening rush hour in the Ratchaprasong shopping district killed 20 people including tourists from China and Malaysia. Police Chief Somyot Poompanmoung said the attack is "unlikely to be international terrorism," a determination that could reduce the impact on a leisure industry that makes up more than 10 percent of Thailand's economy.
"It could be personal revenge, taking revenge for his friends," Somyot told reporters Saturday, without giving more detail.
He said it's not clear whether the man is one of two suspects police have been seeking after reviewing security footage of the blast in Ratchaprasong and a second explosion the following day at a popular river boat pier.
"After a preliminary investigation, we believe this man is linked to the bombs at both Ratchaprasong and Sathorn," Prawut said at a separate briefing Saturday. "We believe he is a member of the group."
The group's members have been in Thailand for a number of years and lived in the apartment, which has been raided on a number of occasions since January last year, Somyot said. Some members may have fled, though others remain in the country, he said.
Probe Criticized
On Thursday, police officials said the bomb probably wasn't the work of international terrorists, though an arrest warrant issued earlier for the unnamed key suspect described him as a foreigner. Local media reports have been critical of the police for giving conflicting details on the nationality of suspects and the haste with which the shrine was reopened.
Theories on perpetrators range from groups disenfranchised by last year's military coup, to a Turkish nationalist group opposed to Thailand's deportation of Muslim Uighurs to China.
The suspect arrested Saturday had 250 passports, including at least 10 that had been forged, Deputy Police Chief Chakthip Chaijinda told reporters. The police will use interpreters, including a Turkish speaker, to help determine the suspect's nationality and identity, he said.
In addition to the prospect that Thailand was targeted by international terrorists, the attack also raised the specter of renewed violence in a country that has seen years of political unrest, culminating in military coups in 2006 and May 2014
The Ratchaprasong intersection was the site of protests in 2010 by supporters of former Prime Minister Thaksin Shinawatra that led to a deadly military crackdown and saw a major shopping mall set ablaze. It was also among the places attacked in a series of bombings on New Year's Eve in 2006 that killed three people and wounded dozens.
Before it's here, it's on the Bloomberg Terminal.
LEARN MORE