Dollar Regains Footing as Fed Officials Remain Upbeat on Liftoff
Greenback posts weekly gain on rebound after Monday plunge

August nonfarm payrolls report Sept. 4 key to dollar's path
The dollar survived a third week of a summer onslaught, but it's hardly in the clear yet.
The currency recovered from a seven-month low against the euro this week, rising against most of its major peers, as a global stock selloff eased and data showed the U.S. economy gaining momentum. Federal Reserve policy makers offered varying views on whether financial-market volatility could deter the central bank from raising interest rates for the first time in almost a decade. Officials emphasized that data in the next two weeks, including the August nonfarm payroll report on Sept. 4, will show whether the economy is ready for higher rates.
The dollar's rise "is consistent with what we've been seeing out of the U.S. economy," Lennon Sweeting, a Toronto-based dealer at the broker and payment provider USForex Inc., said by phone. "The big thing is there's a lot of new information available to the Fed that wasn't available back in July. It'll be interesting to see whether they're taking a step back on a rate hike."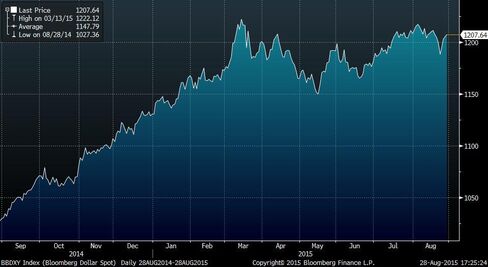 The greenback climbed 1.8 percent to $1.1185 against the euro this week, after plummeting on Monday to the lowest since January. The Bloomberg Dollar Spot Index gained 0.7 percent to 1,207.64, the first weekly advance since China unexpectedly devalued the yuan on Aug. 11, triggering a global equity rout as volatility roiled markets.
Higher Probability
Traders have increased to 59 percent the probability the Federal Reserve will raise interest rates by or at its December meeting from as low as 46 percent on Aug. 25. The odds for an increase at the September meeting were 38 percent. The calculation is based on the assumption that the effective fed funds rate will average 0.375 percent after the first increase.
The world's biggest economy continued to add jobs in August and the jobless rate fell to 5.2 percent, according to the median estimate in a Bloomberg survey of economists. Gains in average hourly earnings remain small, indicating little pressure on wage growth that will translate into higher inflation.
Fed Vice Chairman Stanley Fischer on Friday left open the option of an interest-rate increase next month, straddling camps of officials who urge caution due to market turmoil and those who say the economy can handle a move.
"We've got a little over two weeks before we have to make a decision, and we've got time to wait and see the incoming data," Fischer said.
Altered Outlook
New York Fed President William Dudley said market turbulence made the case for a September move "less compelling to me than it was a few weeks ago."
While the pace of gains in consumer prices remains below the Fed's 2 percent target, St. Louis Fed President James Bullard said on Friday that U.S. fundamentals "look good," echoing comments by Cleveland Fed President Loretta Mester at the Fed's annual meeting at Jackson Hole, Wyoming.
A report Thursday showed U.S. gross domestic product rose at a 3.7 percent annualized rate in the second quarter, exceeding all estimates of economists surveyed by Bloomberg.
"If the U.S. economic data continue to come in strong, and if equity markets continue to stabilize, you'd have to think that rate hikes are back on the table, which should be positive for the dollar," said Khoon Goh, a senior foreign-exchange strategist at Australia & New Zealand Banking Group Ltd. in Singapore.
Before it's here, it's on the Bloomberg Terminal.
LEARN MORE