RNB Chief Says Strong Momentum Continued in Current Quarter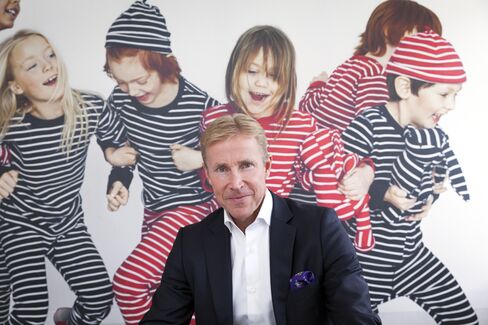 RNB Retail and Brands AB's year-long outperformance has continued into the latest quarter as wet summer weather has led Swedes to shop in the company's clothing stores, rather than go to the beach.
"The strong momentum we've had for the past few quarters has continued in the fourth quarter," Chief Executive Officer Magnus Hakansson said in an interview in Stockholm. "In addition to having a strong momentum in relation to the market, the market has also been strong."
The third quarter was the fifth consecutive period in which RNB grew faster than the overall market, with same-store sales increasing 8.8 percent compared with a decrease of 2.8 percent for the market as a whole. The performance, led by growth in its Brothers chain of men's apparel stores, has been reflected in the share price of the Stockholm-based company, which has risen about 38 percent in the past year.
RNB rose as much as 6.3% to 14.35 kronor in Stockholm trading, and traded at that level as of 10:26 a.m. local time. It was the second-biggest gainer on the Stockholm OMX All-Share Index, which has some 300 members and declined 0.3 percent.
"We've had good sales for all three concepts, with super strong sales for Brothers," Hakansson said.
In a move to improve profitability, RNB in 2013 divested its JC chain and Kosta Outlet and closed the Sisters womenswear stores to focus on Brothers, childrenswear chain Polarn O. Pyret and operations at the NK department stores. Those measures helped RNB make its first full-year profit since 2010 in the financial year that ended August 2014.
The company had an operating profit of 36.1 million kronor ($4.3 million) in the nine months through May.
Dollar Impact
"We are taking market share with all our three concepts, but Brothers have been a rocket," Hakansson said, reiterating that Brothers is set to make a profit for the 2015/2016 financial year.
Like many other retailers, RNB is battling the strength of the dollar, which hurt the margin for its Polarn O. Pyret business during the third quarter. The CEO said foreign-exchange effects of this kind will weigh on the fourth and first quarter, but be negligible in the second quarter.
As RNB's cash flow improves, expansion will mainly be focused on Polarn O. Pyret, known for its red and navy stripes, Hakansson said, adding that investment in development will be important for all three concepts. The company may also consider other actions to increase its size after the 2013 divestments reduced annual sales to about 2 billion kronor from about 3 billion kronor previously.
"The company is now on the small side in terms of sales," Hakansson said, adding that he sees savings in terms of economies of scale if the company gets bigger. "I would like to see us developing a new business or acquiring a new business, or in other ways becoming bigger."
Before it's here, it's on the Bloomberg Terminal.
LEARN MORE