Norway Has a Treasure Trove of Tools to Fight Sub-$50 Oil
High household savings, an $840 billion wealth fund -- what more could you want?
Brent crude at about $50 per barrel is hitting oil-reliant Norway hard, with economic growth in the Scandinavian nation all but coming to a halt. Luckily, the nation's policy makers have something that many of their international counterparts don't: A battery of tools to help keep it from recession. Here are the resources at Norway's disposal.
1. Strong automatic stabilizers
While unemployment has surpassed levels seen during the global financial crisis, 4.5 percent is still low compared to what neighboring regions are facing. In fact, employment is still growing.
Those who have lost their jobs are supported by a lavish welfare system that offers benefit payments of as much as 62 percent of gross income for up to two years.
They are also supported by a high household savings rate. This means that while Norway is getting used lower oil prices, households have a buffer so they can make their mortgage payments.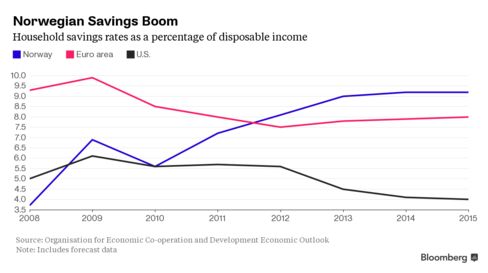 2. Room to cut interest rates
Unlike the Federal Reserve, the European Central Bank or the Riksbank in neighboring Sweden, Norway has a long way to go with interest rates before any unconventional monetary policy would come into play. Rates are at 1 percent now and even the most bearish forecasters don't see rates going below 0.75 percent.
3. A slumping krone
Olsen said in February that a weak currency is key to making Norway less reliant on oil. According to the Bloomberg Correlation Weighted Index, the krone's almost 14 percent decline over the past 12 months is the worst performance of the 10 currencies tracked in the period.
That's good news for the nation's non-oil industries such as paper production and seafood.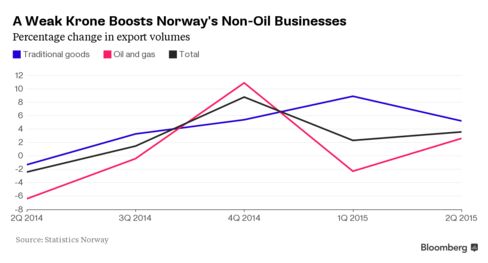 4. An $840 billion sovereign wealth fund
With about $161,000 for each of its 5.2 million residents locked away in overseas investments, the nation can tap into that treasure chest to plug fiscal budget shortfalls.
5. No inflation fears
While underlying inflation is currently very close to the bank's 2.5 percent target, Norges Bank Governor Oeystein Olsen has said that he would be fine with inflation above or below 0.5 percentage points that goal. That means there's still a little more room for the central bank to bolster the economy before prices accelerate to an unacceptable pace.
Before it's here, it's on the Bloomberg Terminal.
LEARN MORE