Japanese Household Income Is a Bright Spot for Troubled Economy
Jobless rate falls, with tightest labor market since 1992

Income trend my help spur much-needed increase in spending
Among a host of mixed and negative signals from Japan's economy at the start of the third quarter, there was some good news for consumers.
Incomes for households with at least one member working jumped 5.4 percent in July from a year earlier, according to the internal affairs ministry. The jump in the inflation-adjusted figure was the biggest increase since October 2010, and came as the jobless rate declined to 3.3 percent and the labor market tightened the most since 1992.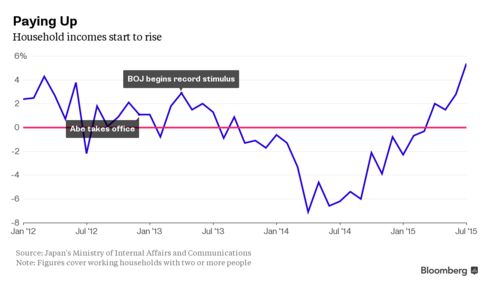 Nomura Holdings Inc. economist Masaki Kuwahara said that this income data should be treated with caution, because the number of households surveyed is relatively small. Also, some labor ministry data earlier this month went the other opposite direction.
But Kuwahara said it was also encouraging and the trend backed up signals from regular monthly pay numbers.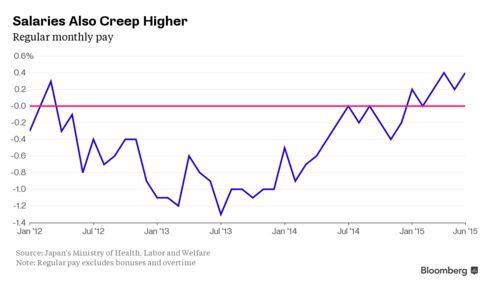 "Supply in the labor market is tight," said Kuwahara. "There's no doubt that employment and income conditions are on a firm footing. Given that, a pick up in private consumption will likely be under way."
The internal affairs ministry tabulated responses from 3,866 households for the July income figures. The labor ministry's monthly wage data are based on surveys of some 33,000 offices.
Before it's here, it's on the Bloomberg Terminal.
LEARN MORE