Fischer Keeps Fed Liftoff Options Open as October Comes in Focus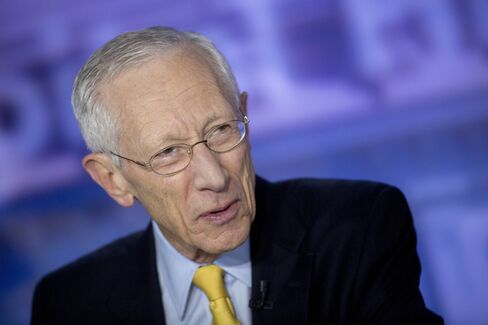 Federal Reserve Vice Chairman Stanley Fischer left open the option of an interest-rate increase next month while two other Fed officials raised the prospect of an October liftoff.
Fischer was the most senior Fed official to speak on Friday as policy makers debated what market turmoil means for the U.S. during a barrage of live television interviews at the Kansas City Fed's annual retreat in Jackson Hole, Wyoming.
European central bankers will address the conference on Saturday, providing an international perspective of market convulsions and slower Chinese growth during a panel on global inflation, in which Fischer will also take part.
The Fed vice chairman said in an interview with CNBC that reports on the U.S. economy's tempo have "been impressive, and the economy is returning to normal."
"I think it's early to tell, the change in the circumstances which began with the Chinese devaluation is relatively new and we're still watching how it unfolds," he said. "I wouldn't want to go ahead and decide right now what the case is, more compelling, less compelling," for a September liftoff.
That contrasts with comments on Wednesday by New York Fed President William C. Dudley, who said market turbulence made the case for a September move "less compelling to me than it was a few weeks ago." The Standard and Poor's 500 Index is around 4.5 percent higher since Dudley spoke.
The U.S. central bank has held rates near zero since 2008. Fed Chair Janet Yellen said in July it would probably be appropriate to raise rates in 2015 if the economy grows as expected. Both Yellen and European Central Bank President Mario Draghi decided not to attend Jackson Hole this year.
Two Camps
Fischer's remarks place him between two camps on the Federal Open Market Committee. Officials such as Fed presidents James Bullard of St. Louis and Loretta Mester of Cleveland say the economy's cumulative gains have been strong and they expect them to continue, and put varying weight on recent market movements.
"My view so far in looking at all of the factors is that the economy can sustain an increase in interest rates," Mester said in an interview Friday with Bloomberg Television at Jackson Hole.
Another camp is signaling there is little reason to rush and appears to prefer to hold off and determine if there is fallout from market volatility, a slowing Chinese economy and the devaluation of the yuan on Aug. 11.
"I don't see a near-term increase in interest rates as being appropriate, and by near term I mean really through the course of the rest of 2015," barring major changes in economic data, Minneapolis Fed President Narayana Kocherlakota told CNBC during an interview at Jackson Hole.
Wait and See
Fed officials next meet Sept. 16-17. "We've got a little over two weeks before we have to make a decision, and we've got time to wait and see the incoming data," Fischer said. "We haven't made a decision yet and I don't think that we should make a decision," he said. "We're dealing with something which happened about 10 days ago, particularly the change in the circumstances."
Investors see a 38 percent chance the Fed will move at the September FOMC gathering and a 49 percent probability of a rate rise at the Oct. 27-28 meeting.
Bullard said the Fed should consider scheduling a press conference after the October meeting to make it easier to explain a rate increase at that time, if it doesn't move in September. Atlanta's Dennis Lockhart said that "October is a live meeting, it's in play."
"The fundamentals of the economy are really solid," Lockhart told Bloomberg Television Friday at Jackson Hole. "I weigh both the distance that we have traveled as well as the current outlook for the economy. Both of those to me I think would suggest that we're close. The timing is close."
Forge Consensus
Omair Sharif, a rates sales strategist at Societe Generale in New York, said there is another reason to expect a later liftoff: Officials don't have enough time before the September meeting to absorb incoming economic data and communicate their intentions to the markets.
"If you want to make sure there's no surprise, that the markets know that it's coming, you don't really have time to make the case for that hike," when the meeting is only three weeks away, he said.
Equities around the world have been whipsawed this week, indicating markets remain subject to sudden shifts in investor sentiment. The Standard & Poor's 500 Index closed 0.1 percent higher at 1,988.87 after the U.S. stock benchmark's biggest two-day gain since the beginning of the bull market in 2009. The yield on 10-year Treasuries was 2.18 percent, little changed from Thursday.
"If you don't understand the market volatility," Fischer said, "yes, it does affect the timing of a decision you might want to make."
Market turmoil "could settle fairly quickly, there is that possibility," he said.
Before it's here, it's on the Bloomberg Terminal.
LEARN MORE