Bond Traders Welcome Those Mexico Remittances Scorned by Trump
Mexico outperforming Indonesia, Peru, Brazil, Turkey, Colombia

Remittances to Mexico jump to $12.1 billion, most since 2008
Mexico's bond market hasn't been immune to the rout that's roiled emerging markets this year.
Still, it's held up better than many of its peers. Peso-denominated fixed-rate notes have lost 12 percent in dollars, compared with slumps of more than 13 percent in the local debt of Indonesia, Peru, Brazil, Turkey and Colombia.
According to Nomura Holdings Inc., part of the reason has to do with the $12.1 billion that migrant Mexican workers have sent to their families in the first six months of 2015, the most in seven years.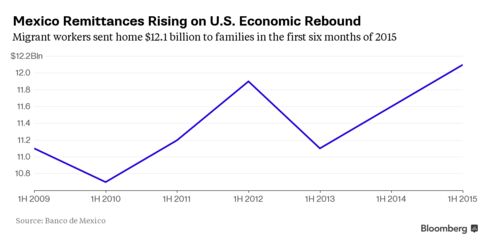 They "play a huge part in the Mexican bond trade for foreigners," said Benito Berber, a New York-based analyst at Nomura.
Demand for pesos has limited the currency's drop against the dollar to 13 percent this year. That might sound like a lot, but it's only about half the decline in Colombia and Brazil, which have bore the brunt of the swoon of emerging-market currencies.
That's especially important for foreigners, who now own about 60 percent of the 2.5 trillion pesos ($150 billion) of Mexico's fixed-rate government bonds. The peso rose 0.7 percent Friday to 16.7574 per dollar as of 3:33 p.m. in New York.
Remittances have been in the news this year as Donald Trump, the 69-year-old Republican Party front-runner for president, threatened to impound them as a key part of his immigration policy. It's a feature that would be used to compel Mexico to pay for a wall along its border with the U.S. to prevent illegal immigration.
In 2012, 98 percent of remittances to Mexico came from the U.S., according to the Pew Research Center. While statistics are hard to come by, BBVA Bancomer SA estimates that most of the money comes from undocumented workers.
Remittances are on the rise as a stronger U.S. economy creates more jobs. Many Mexicans work in the U.S. housing industry, where construction jumped to an eight-year high last month.
Not only does it help support bond prices, but the money that migrant workers send back to Mexico plays a big role in stabilizing the current-account deficit, according to Nomura's Berber. That sets Mexico apart from Brazil and South Africa, whose large shortfalls prompted Morgan Stanley to include them in its Fragile Five group of vulnerable countries in 2013.
Curbing remittances would "bring a significant loss of value for bonds in dollar terms," Carlos Serrano, Bancomer's chief economist, said from Mexico City. "There'd be a negative reaction."
Before it's here, it's on the Bloomberg Terminal.
LEARN MORE