Bank of Zambia Says Policy `Appropriate' as Kwacha Hits Low
Kwacha under `immense pressure' after China devalues yuan

Zambia should grow export base, reduce unnecessary imports
Zambia's central bank said its monetary policy stance is appropriate even as the currency of Africa's second-biggest copper producer fell to a record low.
The kwacha "has come under immense pressure," mainly because of China's move to devalue its currency, the Bank of Zambia said in an e-mailed statement on Friday. China's surprise decision on Aug. 11 roiled global markets and sparked a sell-off in emerging market currencies.
Zambian policy makers this month held the benchmark interest rate at 12.5 percent, after raising it twice last year to tackle inflation, which accelerated to a six-month high in August. Tighter monetary conditions have failed to stem a decline in the kwacha, Africa's worst-performing currency against the dollar this year. The government has twice reduced its 2015 economic growth forecast as the price of copper trades near a six-year low.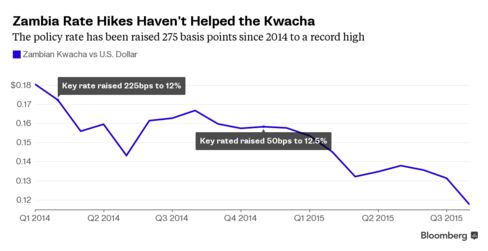 Depreciation in the currency gives fresh impetus for the southern African nation to cut its reliance on copper that accounts for over 70 percent of exports, the bank said.
"The movements in the exchange rate are sending clear signals that our economy needs an expanded export base and a reduction in unnecessary imports," the bank said. "We all need to engage in expenditure-reducing and expenditure-switching activities going forward."
The currency declined 1.6 percent to 8.63 per dollar by 10:45 p.m. on Friday in Lusaka, the capital, the lowest level since Bloomberg began compiling the data in 1994 and taking its losses to 26 percent since January.
Before it's here, it's on the Bloomberg Terminal.
LEARN MORE