'Flash Crash Trader' Sarao Fails to Delay Extradition Case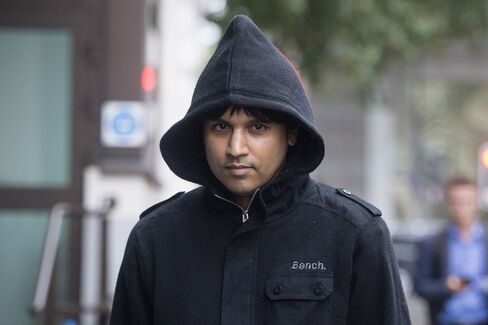 Navinder Singh Sarao, the trader charged over his role in the 2010 U.S. flash crash, lost a bid to delay extradition proceedings next month.
Sarao, wearing a gray suit and sneakers, appeared in court for the first time since being released on bail. He asked a London judge for more time to prepare an expert report on trading, but the judge rejected the request, saying the issue was irrelevant to the question of extradition to the U.S.
The 36-year-old Sarao was released on bail two weeks ago after four months in jail. He was arrested in April at his house in London's Hounslow neighborhood, and charged by U.S. prosecutors with fraud and market manipulation. Authorities said he was responsible for one in five sell orders during the frenzy on May 6, 2010, when investors saw almost $1 trillion erased from U.S. stocks in minutes.
Sarao's lawyer tried to argue expert evidence was needed to show whether Sarao had made false representations through his trading. Judge Quentin Purdy said that question was a trial matter and irrelevant to what he must decide -- whether the U.S. charges would also be offenses under U.K. law.
Although Sarao was released on Aug. 14, he faces strict bail conditions that prevent him from leaving the greater London area circled by the M25 highway and can't access the Internet for "fiscal" purposes. Usually defendants on bail are allowed to go anywhere in England and Wales. His parents have paid a 50,000-pound surety as part of the original conditions for his release.
For more, read this QuickTake: Trading on Speed
Before it's here, it's on the Bloomberg Terminal.
LEARN MORE