Why Were 500,000 Indians Protesting in Modi's Home State? Q&A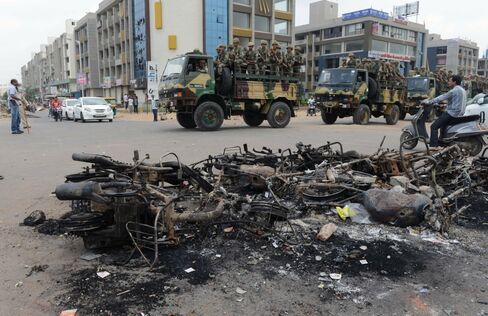 Army deployed as caste-based violence explodes in Gujarat

Patels want guaranteed spots in schools, government jobs
India deployed its army this week in the western state of Gujarat after swarms of protesters torched buses and police stations in an explosion of caste-based violence.
The demonstrations included 500,000 people, police said, in tumult that began on Tuesday and is reported to have left nine dead so far.
The Press Trust of India reported that in addition to paramilitary troops, five army columns were deployed on Wednesday night to the state's biggest city, Ahmedabad, with others sent to three other locations in Gujarat. By Thursday, several of the state's cities were locked down in curfew.
So, what in the world is going on? Some questions and answers to help you sort through it all:
Q: Who is protesting and setting things on fire?

A: The Patels, or Patidars, a relatively affluent caste in Gujarat. They are upset that they don't benefit from a caste-based reservation system (a national affirmative action program), and they want a piece of it. If lower castes begin to counter with protests of their own, things could get even uglier.
Q: OK, what's caste?
A: Caste is a method of social stratification, based largely on Hindu beliefs of purity, that divides people into groups. Brahmins are at the top, and Dalits (once called Untouchables) are at the bottom. It's a sort of taxonomy of peoples that still helps influence who becomes a businessman and who cleans a toilet for a living.
The importance of caste is particularly strong in rural areas, which is where the majority of India's 1.2 billion people live. (In Indian parlance, the lower castes are called "backwards" and the upper are known as "forward.")
Q: What's caste-based reservation?
The reservation system is the mechanism by which the Indian government guarantees a wide range of benefits -- such as school placement, access to government jobs and certain welfare programs -- to lower castes and indigenous tribes.
A government summary of results from a 2011 national census showed that almost 30 percent of rural households were either lower caste or tribal. But crucially, it did not include numbers for a catchall designation known as Other Backward Class -- a collection of groups that sit above the lower castes in Indian hierarchy and are also included in the reservation program. The protesting Patels want to be included in that category.
Q: So... where is Gujarat and how could this impact Modi?
A: Gujarat borders both the Arabian Sea and Pakistan. It's one of India's economic engines, accounting for a fifth of the country's exports.
More importantly, it's where Prime Minister Narendra Modi spent much of his political career as chief minister. The state is his power base and problems there, at the least, risk making him look bad at a time when his party is headed into a series of crucial state elections.
"Once again, I appeal to the people of Gujarat to maintain peace," Modi wrote on Twitter. "Violence will never achieve anything."
Among the most-affected cities is the diamond trading center of Surat, population 4.5 million. De Beers earlier this year opened a $10 million diamond grading and inscription facility there.
Q: Why would the well-off Patels want special treatment?
A: For one thing, they argue that their kids are at a disadvantage because they face a higher barrier to government jobs or university placement. In Gujarat, 48 percent of government jobs are put aside for the reservation program, according to the state's Department of Social Justice and Empowerment. To Patels, especially in rural areas where job prospects are lower, this is a problem.
Q: Where else would I have heard about Patels?


A: If you live in the U.S., you may have stayed in one of their hotels.
As described by the Asian American Hotel Owners Association, for Gujaratis who headed to America between the mid-1960s and mid-1980s, "word quickly spread among Indian immigrants about the hotel industry."
Before it's here, it's on the Bloomberg Terminal.
LEARN MORE