Turkey, U.S. Airstrikes on Islamic State to Start 'Soon'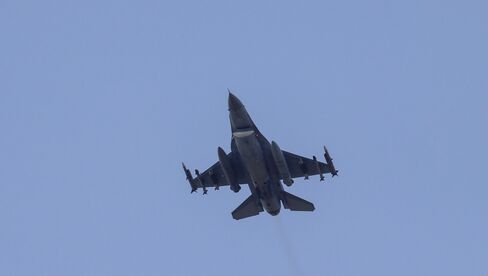 U.S. and Turkish warplanes will begin joint airstrikes against Islamic State, U.S. and Turkish officials said, augmenting the firepower trying to halt the jihadist group's violent campaign.
"We expect joint operations, flights to start soon," Turkish Foreign Ministry spokesman Tanju Bilgic said Thursday in a briefing with reporters in Ankara. Other countries are also interested in joining operations, he said, without specifying.
Under pressure from the U.S., Turkey moved to the frontline of the war on Islamic State in July, with its first airstrikes against the jihadists following a deadly suicide bombing in a border town. The government also yielded to a longstanding American request to use its southern Incirlik Air Base to reduce flight times, and U.S. F-16s started targeting Islamic State militants in Syria from the base in mid-August.
Turkey will "be flying very soon inside the coalition air operations tasking order," U.S. State Department spokesman John Kirby told reporters on Wednesday. "That's a big deal and we're grateful to have them in the air with us soon."
The merged effort with the U.S. is an "important force multiplier" that will sustain and complement U.S. efforts to pressure Islamic State on a number of fronts, Pentagon press secretary Peter Cook said on Aug. 25.
The U.S.-led coalition is focusing its attacks on Islamic State positions in northern Syria, south of the border with Turkey, the State Department said earlier this week.
'Increased Pressure'
"Combined operations by Turkish and U.S. fighter jets will place Daesh under increased pressure in northern Syria," Anthony Skinner, head of analysis for the Middle East and North Africa at U.K.-based forecasting company Verisk Maplecroft, said on Aug. 25, using an alternative name for Islamic State.
U.S. President Barack Obama has ruled out sending U.S. ground troops into combat in Syria or Iraq, and is counting on defeating Islamic State fighters through local forces on the ground, bolstered by U.S. and allied airstrikes.
Under cover of the war on Islamic State, Turkey is also carrying out an offensive against Kurdish militants in northern Iraq, trying to root out opponents with designs on autonomy in Turkey's southeast.
That operation highlights the differences between Turkey's priorities in Syria and those of the U.S. While Syrian Kurdish fighters received American support as they inflicted a series of defeats on Islamic State, Turkey argued against the choice of allies, concerned that their successes may embolden separatist Kurds at home.
Western-backed opposition groups in Syria are divided and ill-equipped, and some of the other rebels have links to al-Qaeda, making them problematic allies.
"The key ingredient to degrading Daesh is establishing a large, well-trained, well-armed, resilient and preferably cohesive fighting force," Skinner said. "This still appears to be a pipe-dream."
Before it's here, it's on the Bloomberg Terminal.
LEARN MORE