These Countries Could Get Hit Hard by El Niño
The winners and the losers
The odds are continuing to rise that one of the strongest El Niño events on record will last until early this spring, and some countries could get slammed.
As Bloomberg's weather expert Brian Sullivan explains, El Niños reduce the hurricane threat in the Atlantic and cause stormier winters in the southern U.S, while threatening grain crops in Asia and Central America. A team at Nomura, led by Rob Subbaraman, has a note out detailing which countries and companies are set to see the biggest impacts.
Subbaraman says countries that will be the most devastated are those that are poor and import most of their food—and a large portion of personal income goes for food. "Such countries may experience a sharp fall in GDP growth, a surge in CPI inflation, worsening fiscal and trade positions, higher interest rates, currency depreciation, and widening credit spreads," he says. Rich countries, however, could benefit if they are large net exporters of food. Below is a list ranking the world's 80 largest countries in terms of their macro exposure. Factors that Nomura considered for the rankings include nominal GDP per capita, share of food in household consumption, and net food exports as a percentage of GDP.
Countries that could see the biggest negative impacts include Nigeria, Pakistan, Philippines, Hong Kong, Saudi Arabia, Russia, China, India, Mexico, and Portugal. Those that might benefit include New Zealand, the Netherlands, Argentina, Norway, and Denmark.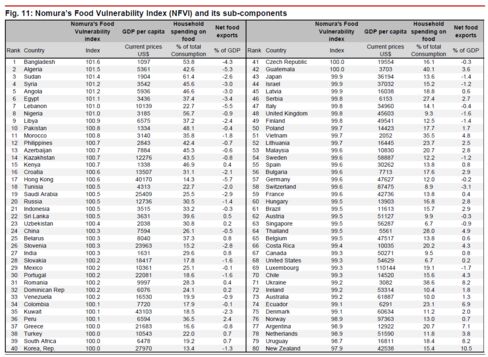 The note adds that it might not take much for an event to cause a large disruption in the global food supply and bring another surge in food prices due to feedback loops such as hoarding and speculation.
Which firms will see the largest effects? Nomura cites 71 global stocks that could benefit and 34 that could lose out. Highlights from the beneficiaries list includes Monsanto, Potash, Mosaic, John Deere, Whole Foods, Kroger, and Tesco. Biggest losers were General Mills, Kellogg, Tyson Foods, and Mondelez.
Before it's here, it's on the Bloomberg Terminal.
LEARN MORE