Wild swings in equity and credit prices had little impact on European leveraged loans as market participants remained on the beach during the holiday season. This has helped the market outperform the busier and more liquid U.S. market, which fell most days this month.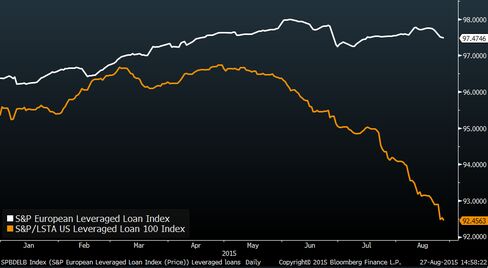 S&P's European Leveraged Loan Index fell by less than 0.2 points on Monday, the same day that the Euro Stoxx 50 fell 5%, the S&P 500 dropped 4% and Markit's iTraxx Crossover rose to the highest level this year. The S&P/LSTA U.S. Leveraged Loan 100 Index dropped 0.4%.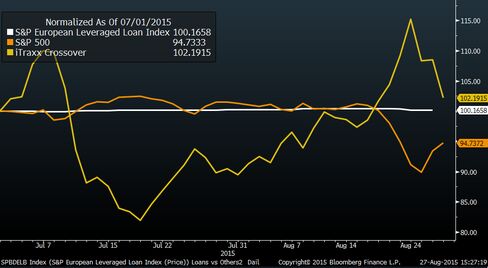 Lower prices don't necessarily translate into actual trading, particularly in Europe's holiday season. Sellers may not be willing to trade at low bids while buyers often choose to delay purchases if they expect prices to fall further. Lack of liquidity is mirrored in Europe's market for CLOs -- bonds backed by leveraged loans -- where ``lack of volume meant that there was little evident impact from the volatility that affected other financial markets,'' according to a note published by Bank of America Merrill Lynch analysts on Aug. 21.
A lack of new loans in Europe hasn't helped market liquidity, and has also boosted prices throughout the year. Returning from holiday, September often brings an influx of new issuance. As much as 4 billion euros of new loans may be prepared for launch, data compiled by Bloomberg show.
Before it's here, it's on the Bloomberg Terminal.
LEARN MORE