South Korea's Park Eyes China-Japan Summit After Kim Showdown
Park Set to Discuss Trilateral Summit With Xi on Beijing Visit

South Korea-Hosted Summit Could Advance Trilateral Trade Talks
Having defused a military standoff with North Korean leader Kim Jong Un, South Korean President Park Geun Hye is looking to improve ties with her other North Asian neighbors.
Park travels to Beijing next week, where she will seek President Xi Jinping's support for a trilateral summit soon with Japanese Prime Minister Shinzo Abe. In recent months, Park and Xi have signaled a willingness to move beyond acrimony over Japan's wartime past to permit the first such meeting in three years.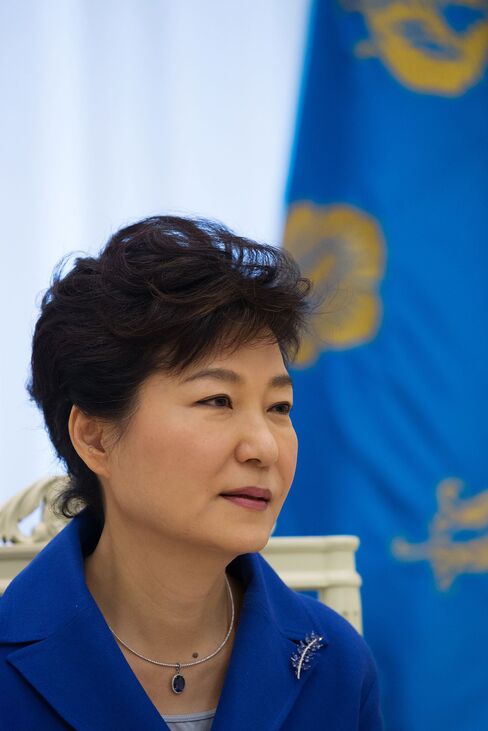 "We want to promote and resume and restore the momentum for the trilateral cooperation -- Korea, China and Japan -- and we hope that President Park's visit to China will help re-energize the momentum for trilateral cooperation and all this will help the stability and cooperation in this region," South Korean Vice Foreign Minister Cho Tae Yong said in an interview Aug. 20. A summit could be held this year in Seoul, Cho said.
A leaders' meeting could ease tensions related to territorial disputes and invigorate talks on a free-trade deal between the countries, which account for a fifth of the world economy, at a time of slower growth. Improved ties could spur a more united front against a nuclear-armed North Korea, which lifted its semi-state of war this week after marathon talks with South Korea. Kim's missiles can reach Seoul, Tokyo and Beijing.
Park has chosen a Chinese event to press for greater dialogue with Japan. She'll be in Beijing to mark the 70th anniversary of the end of World War II as part of a holiday China is calling "Victory Day of the Chinese People's War of Resistance Against Japanese Aggression." Abe declined an invitation to the event, which includes a military parade through Tiananmen Square. Park will meet Xi on Sept. 2 and attend the parade the next day.
War Revisionism
The three nations last held a summit in 2012, before Abe, Park and Xi came to power. The war remains a sensitive issue in China and South Korea, which suffered under the yoke of the Imperial Army in a conflict that killed more than 20 million Asians.
Abe has been pushing for better ties and the foreign ministers of the nations agreed in March to work for a summit "at the earliest convenient time." A three-way meeting may be less politically difficult for China as Premier Li Keqiang rather than Xi would probably take part if previous top-level meetings are a guide.
"The chances of pulling this off are reasonably good," said James Brown, an assistant professor for international affairs at Temple University in Tokyo. "The Chinese side are in favor, Abe has always said he wants to meet. If she's willing to go for it, and sees she can do it domestically, she will."
Acknowledge History
Park has repeatedly said she wouldn't meet with Abe until he did more to acknowledge history. Abe's statement this month on the 70th anniversary of Japan's surrender may have contributed to Park's change of heart.
While Abe didn't offer a personal apology, he said Japan inflicted "immeasurable damage and suffering" across Asia, and noted "there were women behind the battlefields whose honor and dignity were severely injured," a reference to so-called comfort women forced to work in military brothels.
Abe's statement left "much to be desired," Park said Aug. 15, though it was time for relations to move forward "based on the right historical recognition."
'Good Enough'
"The Abe statement was good enough, that she can certainly lighten up," said Robert Kelly, an international relations professor at Pusan National University in South Korea.
Improving ties with North Asia's biggest economies is taking on renewed urgency as Park seeks to revive growth and boost exports that have fallen for seven straight months. With China's economy expanding at the slowest pace in a quarter century, Xi also has an incentive, and a summit could spur talks on the three-way free-trade agreement that started in 2013.
"Although we have differences certainly among the three countries, I think the three countries have reasons to cooperate with each other and to draw benefits from greater trade, greater investment and more exchanges and more interactions," Cho said.
Abe has met Xi twice in the past year, including in April in Indonesia, but has not sat down with Park beyond a trilateral meeting engineered by U.S. President Barack Obama in March last year on the sidelines of a nuclear non-proliferation summit. Abe and Park may visit the U.S. next month during the United Nations General Assembly, with Xi's trip confirmed.
Halfway through her single five-year term, Park may also be thinking about her legacy. Given that South Korea held the rotational chair on the summits when the process broke down, Park will probably get to host the next one.
"It would play quite well for her if she were seen to be a major international figure engaged in brokering significant changes in international relations," Brown of Temple University said. "A detente between these three countries would be huge."
Before it's here, it's on the Bloomberg Terminal.
LEARN MORE