Oil Surges for a Second Day as Some Calm Returns to Equities
Crude jumps most in two days since 2009 in rebound above $40

Markets watch Fed gathering in Jackson Hole for rate clues
Oil surged, capping the best two-day rally since 2009, while U.S. equity investors found some relative calm in a turbulent week as Federal Reserve officials meet at Jackson Hole.
The Standard & Poor's 500 Index was little changed after the U.S. benchmark's biggest rebound since the beginning of the bull market in 2009. Equities trading has been whipsawed by gains and losses this week as markets remain subject to sudden shifts in investor sentiment. Oil climbed more than 6 percent after a 10 percent rally on Thursday.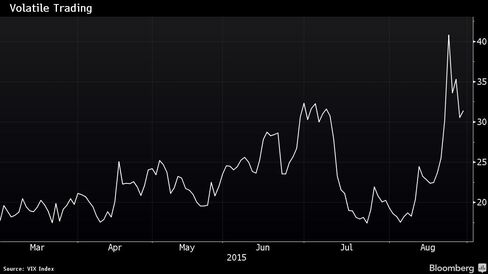 "The market just may be tired. We had an awful lot of actions," Cam Albright, head of investment strategy at Wilmington Trust in Baltimore, said by phone. The firm oversees $76 billion. "There has been a lot of price action in both directions, perhaps traders just make a chance to catch their breath."
Global equities lost as much as $8.4 trillion in value after China's unexpected devaluation of the yuan on Aug. 11 spurred concern the world's second-biggest economy was on the brink of a deeper slowdown, damping demand for raw materials and spurring a selloff in developing economies.
The S&P 500 rose less than 0.1 percent at 4 p.m. in New York, trading in the narrowest range in almost two weeks. The index's 0.9 percent gain for the week masks a volatile period in which the S&P 500 plunged the most since 2011 to enter a correction, only to rally more than 6 percent over two days. The gauge is down 5.5 percent for the month, the most since May 2012.
The Stoxx Europe 600 Index advanced 0.3 percent, after surging 3.5 percent on Thursday. The yield on 10-year Treasuries was little changed at 2.19 percent.
"We need to see a bit of consolidation given the recent rally," said Gunther Westen, who helps oversee about $28 billion as head of asset allocation and fund management at Meriten Investment Management GmbH in Dusseldorf, Germany. "There's still insecurity. The Fed is still looming over the markets."
Jackson Hole
Fed officials gathered in Jackson Hole, Wyoming, are weighing when to begin raising interest rates for the first time since 2006. Markets rebounded after a report yesterday showed U.S. economic growth accelerated more than analysts forecast.
The Cleveland Fed's Loretta Mester told Bloomberg Television Friday that "the economy can sustain an increase in interest rates." St. Louis Fed President James Bullard said in a separate interview that market volatility shouldn't affect the Fed's forecast for the economy. Neither Bullard nor Mester expressed a preference for raising rates at a specific meeting.
Fed Vice Chairman Stanley Fischer, speaking on CNBC, said the central bank hadn't decided on whether to raise its target at the next meeting.
Reports today showed Americans kept spending in July, and sentiment barely wavered this month as stocks plunged, keeping intact prospects that consumers will continue to drive growth. Purchases climbed 0.3 percent, the same as in June, according to Commerce Department figures. The University of Michigan consumer sentiment index fell to 91.9 in August from 93.1 the prior month.
Treasuries had their biggest weekly decline since June, after the most volatile trading period in six months. While yields on the 10-year note were little changed today, they were up 14 basis points for the week.
Volatility Gauge
The Chicago Board Options Exchange Volatility Index rose 6.4 percent to 27.76 Friday, rising for the first time in four sessions. The gauge jumped the most on record during intraday trading Monday.
Stock markets will be subject to higher volatility for weeks, according to a note Thursday from JPMorgan Chase & Co. derivatives strategist Marko Kolanovic. He cited quantitative traders whose funds are tuned to price trends and volatility.
Bigger moves are likely at the beginning and end of sessions as those investors seek to tweak holdings to take into account this month's correction, Kolanovic said. Such institutions may need to sell $300 billion of stock, all told, he wrote.
"Capitulation has happened but we're not done with all the volatility in equities," Andrew Brenner, the head of international fixed income for National Alliance Capital Markets, said by phone. "I think the worst is over, but are we out of the woods yet -- no -- we're still going to have a lot of volatility."
The Stoxx 600 has had moves of at least 1.7 percent for seven straight days, ending the week little changed. It's fallen 8.4 percent this month, the most in four years.
China Stocks
While the Shanghai Composite Index jumped 4.8 percent, capping a 10 percent gain across two days, the Hang Seng China Enterprises Index dropped 1.1 percent in the final hour of trading in Hong Kong.
China intervened to shore up its volatile equity market late Thursday, according to people familiar with the matter, while a commentary in the official Xinhua News Agency said developed-nation monetary policies were to blame for global financial-market volatility.
Policy makers are said to be trying to end a stock rout before a Sept. 3 military parade that will celebrate the 70th anniversary of the World War II victory over Japan.
"China wants to save face as the parade approaches," said Daniel Chan, a Hong Kong-based analyst at Brilliant & Bright Investment Consultancy Ltd.
Oil sustained a rebound above $40 a barrel amid signs of a strengthening economy in the U.S., the world's biggest crude-consuming country. West Texas Intermediate rose 6.3 percent to $45.22 a barrel. Prices climbed 12 percent this week, the biggest advance since February 2011, though they are still down 15 percent for the year on concern a supply glut will persist.


Before it's here, it's on the Bloomberg Terminal.
LEARN MORE