Ten Years After Katrina, Obama Says Work Not Done in New Orleans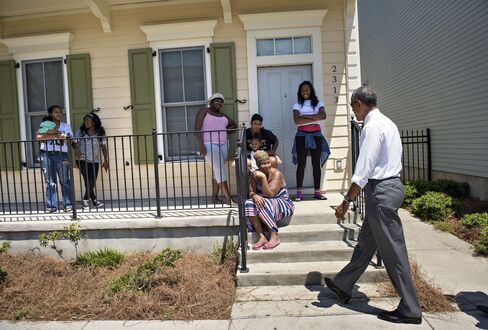 Ten years ago, the site of a colorful new public housing development that President Barack Obama toured today in New Orleans' famous Tremé neighborhood was underwater.
Hurricane Katrina flooded most of the city, killed more than 1,500 people caused as much as $150 billion in damage. A decade later, it is rebounding, and Obama's walk through Tremé and the famously hard-hit Lower Ninth Ward demonstrated the city's progress.
"This is the president I was telling you about," a mother told her two-year-old son as the president approached, accompanied by New Orleans Mayor Mitch Landrieu and a crowd of reporters and photographers. A scowling eighth-grader smiled after the president told him to work hard and study.
"Just because the housing is nice doesn't mean our job is done," Obama told reporters after touring the development, where the homes are built in a style evoking the French Quarter.
Recovery from Katrina has been a focus of Obama's administration, White House officials say, as the government has poured billions of dollars into the Gulf Coast to rebuild housing, schools, health services and infrastructure destroyed by the storm. The trip on Thursday was Obama's ninth visit to Louisiana, the White House said.
"We acknowledge this loss, this pain, not to harp on what happened but to memorialize it," Obama said in a speech at a new community center in the Lower Ninth Ward, built on land where water stood 17 feet deep after the storm. "We do this not in order to dwell in the past, but in order to keep moving forward."
Mixed Bag
New Orleans has served as an incubator for some of Obama's social programs, including My Brother's Keeper, a mentoring initiative for young black men that is expected to be a focus for the president after he leaves office. On Thursday he ate fried chicken at Willie Mae's Scotch House, an iconic Tremé restaurant, with four of the program's participants.
The city's recovery has been "a mixed bag," retired Coast Guard Commandant Thad Allen said. In 2005, President George W. Bush named Allen to direct his administration's response to the storm after the Federal Emergency Management Agency was criticized for fumbling the work.
Allen, now an executive vice president at the consulting firm Booz Allen Hamilton, was in New Orleans on Thursday to survey its reconstruction.
"When you think of a phoenix rising out of the ashes, there's a lot of phoenixes and a lot of ashes," he said by phone, as he examined new flood-control pumps near Lake Pontchartrain.
Obama described the city's recovery as a work in progress, beset by economic inequality as it was before the storm.
Sore Spot
"The project of rebuilding here wasn't simply to restore the city as it had been," he said. "It was to build a city as it should be, a city where everyone, no matter who they are or what they look like or how much money they've got, has an opportunity to make it."
One sore spot for the city, where blacks, Hispanics and Asians make up more than 60 percent of the population, is that minority-owned businesses have lagged white-owned firms in the recovery, according to Richard McCline, a University of Georgia researcher who released a study of the New Orleans economy in July. The city's challenges with racial and economic inequality are a "microcosm" of the U.S., Valerie Jarrett, a senior adviser to Obama, said in an interview.
"The United States has an abundance of talent; it is ubiquitous," Jarrett said. "But opportunity is not."
Before it's here, it's on the Bloomberg Terminal.
LEARN MORE