Norilsk Said to Weigh Benchmark Bond Sale Before Fed Moves
Norilsk said to plan non-deal roadshow after earnings report

Company's yields are 3 percentage points below December peak
GMK Norilsk Nickel PJSC, Russia's largest mining company, may sell at least $500 million of Eurobonds next month to lock in borrowing costs as the U.S. Federal Reserve weighs its first interest-rate increase since 2006.
The company, which is due to report first-half results on Monday, plans to hold non-deal meetings with investors in September to understand the coupon, maturity and amount it could offer, according to two people with knowledge of the plans, who declined to be identified because the information is private. A foreign bond deal by Norilsk would be the first major offering from a company outside the banking industry since issuance dried up in the wake of Russia's incursion into Crimea last year.
"Norilsk is a good, well-known name," Egor Fedorov, an analyst at ING Bank Bank Eurasia JSC, said by phone. "Demand will be high."
Norilsk's plans come amid turmoil on global financial markets as investors watch for fresh signs China's economy is flagging and the Fed debates its first rate increase in nine years. Market conditions permitting, Norilsk will sell the bonds in September after presentations to get ahead of a Fed decision that could lift borrowing costs for developing-nation companies, the people said.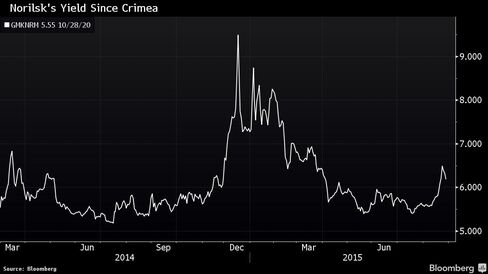 Norilsk's $1 billion of bonds maturing in October 2020 tumbled with assets around the world on Monday, lifting the yield 27 basis points to 6.48 percent, the highest since March. The rate on the notes fell 15 basis points to 6.18 percent as of 3:49 p.m. on Thursday, more than three percentage points below a record high in December last year.
There's no final decision on the Eurobond sale because Norilsk's debt load is manageable and the company isn't in a rush to borrow, the people said. If the company decides to proceed, it may hire Citigroup Inc. to manage the sale, they said.
Best Candidate
Norilsk's press service declined to comment on the plans, while adding that the company is watching the situation on markets carefully.
Some of the nation's biggest companies were locked out of overseas debt and equity markets after the U.S. and European Union imposed sanctions as the crisis in Ukraine escalated last year.
Because Norilsk isn't included on any of the western sanctions lists, it's "one of the best candidates to unfreeze the Eurobond markets for Russian corporates," according to Apostolos Bantis, a credit analyst at Commerzbank AG in Dubai. "A couple of other names will follow suit in the fall before a Fed rate hike," he said, without naming the companies.
Before it's here, it's on the Bloomberg Terminal.
LEARN MORE