Junk-Bond Convulsions Have MatlinPatterson Salivating for Yield
Average yield on borrowings jumps to highest level since 2012

Junk index hasn't fallen for four straight months in 20 years
The worst selloff in more than three years just hit the junk-bond market. For some investors, like Craig Ruch, that panic means opportunity.
"We have more ideas than we've had in the last three or four years," said Ruch, a money manager for MatlinPatterson, which oversees $7.5 billion in assets. "We are seeing buying opportunities. There are a number of credits that simply aren't affected by what's going on in the world but their value has been impacted. It has gotten attractive now."
Tumult in China and a commodities rout has wiped out all of this year's gains in the speculative-grade market, putting the debt on track for its worst annual performance since the 2008 financial crisis. The obstacles facing high-yield debt are numerous, including rising defaults and a Federal Reserve that's laying the groundwork for its first interest-rate hike since 2006.
"With all the volatility in commodities, it's hard to say that you want to be fully invested and fully deployed in high yield," said Jon DeSimone, a managing director at Sankaty Advisors LLC, which oversees about $26.8 billion of assets. "Where high yield is currently trading, it's heavily influenced by the energy, metals and mining sectors."
Hope for a rebound in junk-bond prices was snuffed out recently as yields on the securities recorded their biggest three-month jump since 2011. To cause further pain the securities will have to post a fourth consecutive month in the red, something that hasn't happened in two decades.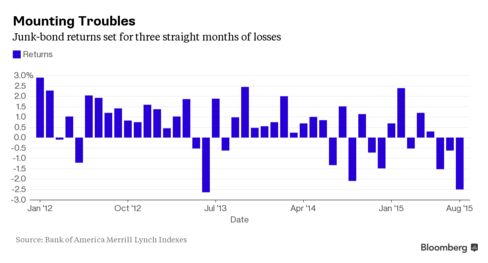 In the meantime, the average yield on even top-tier junk bonds has surged to a their highest level since 2012, which is forcing some investors to take a second look. This is why Ruch is drawn to securities rated single-B and above, especially those that are secured, while bonds with worse grades or that are tied to troubled assets such as oil and coal are less appealing.
The average extra interest investors demand to own junk bonds instead of Treasuries has almost doubled to 6 percent in the last 12 months, providing an attractive entry point, said Gary Herbert at Brandywine Global Investment Management. But he wants to wait just a little while longer before taking the complete plunge.
"If you have a two- or three-year horizon you could make money even entering now," he said. "But most of us are being cautious. It's a mark-to-market world. We feel more comfortable with a 700-basis point level."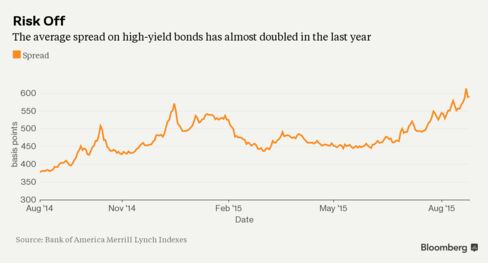 Spreads in the shorter-maturity, higher-quality names have seen a significant move relative to what investors usually see in that portion of the market, according to Andy Toburen, a high-yield money manager at Chartwell Investment Partners, which oversees $8.1 billion in assets.
That has enabled Toburen to go hunting for deals, especially among debt that's rated BB and with less than five years to maturity.
"Energy and basic materials have been the epicenter of the selloff but the broader market has traded off in sympathy with those sectors," he said. "The snapback in a lot of names can be pretty quick once the market figures out who the survivors are."
The gap in the average borrowing cost for companies rated in the lowest tier of the debt market and the rest of the high-yield index is the widest it's been since 2009, pointing to a clear bifurcation.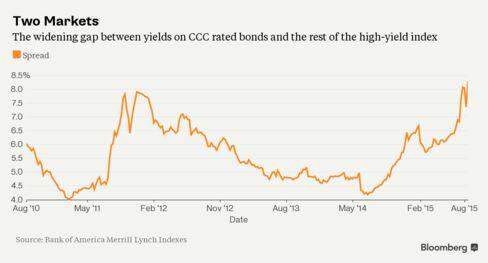 With commodities plunging, jittery investors have pulled money from junk-bond funds. U.S. high-yield bond funds had $1.6 billion of outflows this past week, the most since the period ended July 1, bringing net withdrawals to about $7.4 billion this year, according to Lipper. The forced selling from this also is giving potential buyers second thoughts about entering the riskiest end of the market.
"You can build a pretty safe and pretty attractive portfolio that is heavily linked to the domestic economy that yields 7 to 9 percent," Ruch said. "Where I wouldn't do anything is specifically in the lower-quality names and anything commodity-related."
Before it's here, it's on the Bloomberg Terminal.
LEARN MORE