Inflation Vanishes in Japan for 3rd Time This Year as Oil Drops
Slumping energy prices are hurting efforts to spur CPI

China slowdown and recent surge in yen add to headwinds
The Bank of Japan's key inflation gauge slumped to zero for the third time this year, as tumbling energy prices counter Governor Haruhiko Kuroda's effort to reflate the world's third-biggest economy.
Consumer prices excluding fresh food were unchanged in July from a year earlier, the Statistic Bureau said on Friday. Economists in a Bloomberg survey had forecast a 0.2 percent drop.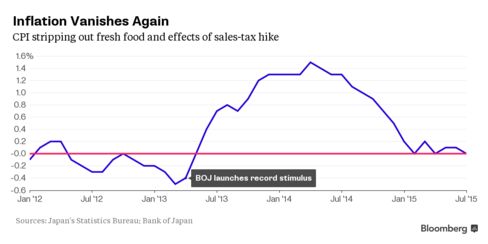 China's economic slowdown, renewed declines in oil and commodities and a recent surge in the yen are adding to headwinds for Kuroda. While he warned as early as March that consumer prices could fall temporarily, Kuroda said this week that the current level of stimulus is enough to spur inflation to the BOJ's 2 percent target. A majority of economists disagree and expect a boost.
"Japan's economy isn't looking good," said Yoshiki Shinke, an economist at Dai-ichi Life Research Institute. "Private consumption and exports are much weaker than what the BOJ saw a few months ago."
Spending Drops
Other data for July released Friday provide a mixed picture for the start of the third quarter. Household spending unexpectedly fell, retail sales rose 0.6 percent from June, bouncing back from a 0.8 percent drop, while the job market remained tight. The job-to-applicant ratio rose to 1.21.
The economy is struggling to recover from a contraction last quarter, with manufacturers weighed down with the most inventory since 2009 and consumer confidence at a six-month low.
The yen was trading at 121.12 per dollar at 9:52 a.m. in Tokyo, gaining almost 3 percent amid global financial market turbulence following China's currency devaluation earlier this month. U.S. oil prices have lost about 5.3 percent.
"It's just a matter of time before CPI dips below zero as negative effects from cheaper energy intensify," said Kiichi Murashima, an economist at Citigroup Inc.
Emerging Risk
Another emerging risk for the BOJ is signs that people are dialing down their own estimates for increases in consumer prices.
Kuroda has said that despite weakness now, inflation will pick up later this year and reach the 2 percent target around the six-month period through September next year. That's a goal he had originally sought to achieve in about two years when he introduced the asset-purchase plan in April 2013.
Only one economist in a survey by Bloomberg from July 27 to Aug. 3 said inflation would reach the BOJ's goal in that time frame. A majority of the 37 respondents forecast the BOJ will eventually boost monetary stimulus, with 12 predicting the central bank will expand easing on Oct. 30.
Economists from BNP Paribas SA to Bank of America Corp. lowered their growth forecasts for the economy after news of a 1.6 percent annualized contraction last quarter. The BOJ's forecast for 1.7 percent expansion for the fiscal year through March 2016 compares with BNP economist Ryutaro Kono's view for growth of just 0.8 percent.
While the slide in energy prices has dragged down the BOJ's key inflation measure, other gauges have indicated rising inflationary pressures. With incomes failing to keep up with living costs, the BOJ's reflation effort risks hurting household finances and weighing on spending.
Before it's here, it's on the Bloomberg Terminal.
LEARN MORE