ICBC's $25.5 Billion of Bad Loans Show Cost of Chinese Slowdown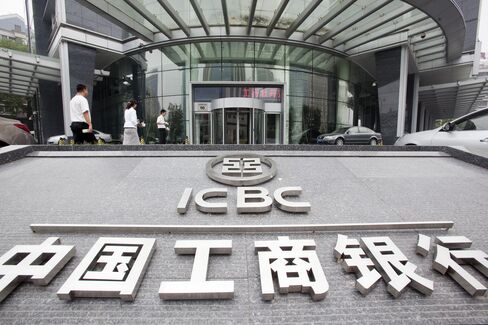 The world's biggest bank, Industrial & Commercial Bank of China Ltd., reported a 31 percent increase in bad loans in the first half as a sputtering Chinese economy drove businesses to the wall.
Nonperforming loans jumped to 163.5 billion yuan ($25.5 billion), the company said on Thursday. The lender's zero profit growth in the second quarter from a year earlier, shown in an exchange filing, was partly due to a doubling of provisions for soured credit.
Prospects for bad debt to keep rising are dragging on China's lenders, with the biggest banks trading below book value. A $5 trillion slump in stocks from their June peak is making it harder for the Communist Party to sustain business confidence and prevent a deeper economic slowdown that worsens debt risks.
The increase in ICBC's bad loans in the first half was at more than twice the pace of the same period in 2014. At the same time, the lender's nonperforming loan ratio remains only 1.4 percent.
ICBC's provisions for soured debt rose to 21 billion yuan. The lender's biggest increases in nonperforming credit in the first half were in China's western region, where the coal industry is struggling, the Yangtze River Delta and the Bohai Rim, it said.
The bank claimed progress in cutting bad-loan ratios in five industries saddled with overcapacity: steel, electrolytic aluminum, cement, sheet glass and shipbuilding.
Monetary Easing
The government has lowered benchmark interest rates five times since November, cut the amount of money banks must set aside, and channeled funds to policy banks in an effort to keep Premier Li Keqiang's expansion target of 7 percent this year within reach.
Cuts to interest rates add to pressure on ICBC's net interest margin, a measure of lending profitability, which narrowed to 2.53 percent in the first half from 2.62 percent a year earlier.
Net income was 74.7 billion yuan in the quarter ended June 30, based on the exchange filing, almost matching 74.8 billion yuan a year earlier. That compared with the 75.7 billion yuan median estimate of 10 analysts surveyed by Bloomberg.
— With assistance by Jun Luo
Before it's here, it's on the Bloomberg Terminal.
LEARN MORE