Hague and Darling Among 45 Joining U.K. House of Lords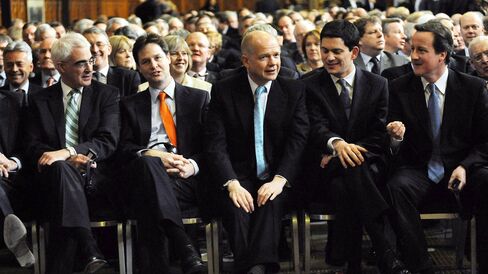 Former Foreign Secretary William Hague and former Chancellor of the Exchequer Alistair Darling are among 45 new members of Britain's House of Lords named on Thursday.
Prime Minister David Cameron put 26 members of his Conservative Party into the upper, unelected chamber of Parliament, which will now have 826 members. There are 11 new peers from Cameron's former coalition partners, the Liberal Democrats, and eight from the main opposition Labour Party. Apart from those set aside for 26 Church of England bishops, the seats are held for life.
Hague led the Conservatives from 1997 to 2001, when they suffered their second-worst election result in modern history. However, he restored his personal and political reputation by writing political biographies and then serving as foreign secretary from 2010 to 2014. Darling was chancellor from 2007 to 2010 under Labour Prime Minister Gordon Brown, during the financial crisis. He went on to lead the campaign against Scottish independence in the 2014 referendum.
While the Lords can introduce, amend and block legislation, its members usually see their role as acting as a "revising chamber," improving bills sent by the elected House of Commons. It has resisted a series of attempts over the last 25 years to make it more democratic and still has 87 members who sit by virtue of their membership of Britain's noble families.
Labour Criticism
Angela Smith, Labour's leader in the Lords, said Cameron was appointing members at a faster rate than any prime minister since 1958.
"This is the first time the Conservatives have not had a political majority in the house while in government," she said. "Poorly drafted legislation is falling apart under the normal terms of scrutiny. Appointing new peers purely on the basis of them becoming voting fodder completely misses the point of the Lords constitutional role."
The Liberal Democrat list of new peers, nominated by former Deputy Prime Minister Nick Clegg, included his predecessor as party leader, Menzies Campbell. The Labour list, named by Ed Miliband, who resigned as party leader after May's election, also included former Home Secretary David Blunkett and former Culture Secretary Tessa Jowell, who's bidding to be the Labour candidate in next year's London mayoral election.
The U.K. Independence Party, which took the third-largest share of the vote in the May election, had no peers nominated.
The Conservative list included several business figures: James Lupton, the managing director of Greenhill & Co. LLC; Ruby McGregor-Smith, the chief executive officer of Mitie Group Plc, and Michelle Mone, founder of Ultimo Ltd. Lupton has given 2.8 million pounds (4.3 million) to the Conservatives since 2009, according to Electoral Commission data.
Two other senior Liberal Democrats, former Chief Secretary to the Treasury Danny Alexander and former Business Secretary Vince Cable, both of whom lost their seats in Parliament in May, were given knighthoods, allowing them to put the honorific "Sir" before their names.
Before it's here, it's on the Bloomberg Terminal.
LEARN MORE