Cellcom Fluctuates as Israeli Telco Mulls Golan Buy
Cellcom Israel Ltd. shares swung between gains and losses after it said it is considering the acquisition of competitor Golan Telecom Ltd., which spearheaded a price war in the sector.
Cellcom shares rose by as much as 8.4 percent before declining 4.7 percent at the close of trading in Tel Aviv. The company said in a PRNewswire statement it has been approached by Golan's advisers to "review the possible purchase of holdings in, or assets of Golan Telecom." Golan, partly owned by French billionaire Xavier Niel of the French low-cost phone carrier Iliad SA, said Wednesday it hired an investment bank to explore a sale. Cellcom and Golan are also awaiting regulators' approval for a network sharing deal.
Israel's largest three mobile operators, Cellcom, Partner Communications Co. and Pelephone, a unit of Bezeq Israeli Telecommunication Corporation Ltd., have been smarting since new providers like Golan Telecom entered the market in May 2012 as part of a government reform. That triggered a price war in Israel's cellular market that wiped billions of shekels from the value of incumbents. Golan has about 850,000 customers, about one third of Cellcom's tally.
"A sale of Golan will benefit most of all the incumbents as it will lead to less competition, higher prices and higher profitability," Gilad Alper, a senior analyst at Excellence Nessuah Brokerage in Petach Tikva, Israel, said by phone. "It is unlikely though that the government will approve the sale of Golan to any of the incumbents because that would mean letting competition in the local market disappear."
The report of the talks between the two companies could also be a tactic to pressure the government into approving the network sharing deal, Alper said.
There was no immediate response to a text message sent to the Communications Ministry. Mark Schon, a spokesman for the Israel Antitrust Authority declined to comment. Both would need to approve such a deal.
Cellcom shares had gained 15 percent on Wednesday.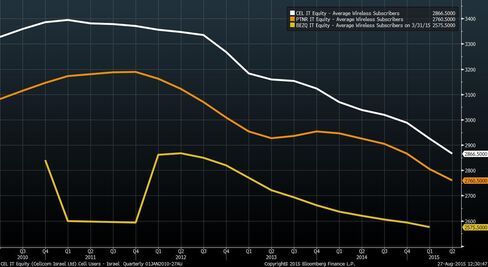 Before it's here, it's on the Bloomberg Terminal.
LEARN MORE