Bonds Show Draghi's Inflation Dilemma a Year After Jackson Hole
ECB Vice President Constancio attending this year's gathering

Goldman: ECB could extend QE if inflation remains depressed
Mario Draghi's speech at Jackson Hole last year was meant to be a turning point in the European Central Bank's battle to boost inflation.
What the central bank chief didn't count on was a collapse in commodity prices that has since pushed bond investors' longer-term inflation expectations even lower than when he signaled a move toward quantitative easing.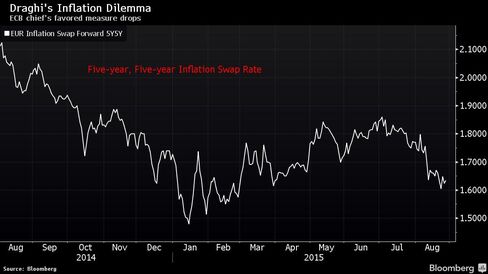 Draghi's preferred gauge for inflation expectations, the five-year, five-year forward inflation swap rate, has collapsed since his speech at the Kansas City Federal Reserve's annual economic symposium in Wyoming last August. That paved the way for a 1.1 trillion ($1.2 trillion) bond-buying program which began in March. The stimulus helped to provide support for government securities, with analysts predicting the German 10-year bund yield will stay below 1 percent through to the anniversary of the start of QE.
"If you follow what the market has been doing lately, we may see further declines in inflation expectations and therefore some downward pressure on yields," said Elwin de Groot, a senior market economist at Rabobank International in Utrecht, Netherlands. "The main reason why at that time they were becoming concerned about inflation expectations is actually the same reason they are falling now. That's the sharp fall in commodity prices. We are now almost in the same situation."
Bund Yields
Germany's 10-year bund yields rose three basis points, or 0.03 percentage point, to 0.74 percent as of 4:10 p.m. London time. The 1 percent security due August 2025 fell 0.325, or 3.25 euros per 1,000-euro face amount, to 102.51.
The yield has dropped from this year's high of 1.06 percent reached on June 10, amid speculation that China's economic slowdown and tumbling commodity prices will reignite deflation risks and prompt more stimulus from the ECB, which has a goal to boost annual consumer-price growth in the euro area to just below 2 percent.
Yields on Europe's benchmark sovereign securities will end the year at 0.9 percent and then rise to 1.01 percent by the end of March, according to the median of analysts' forecasts compiled by Bloomberg.
Italian and Spanish bonds rose Thursday. The yield on Italy's 10-year securities fell six basis points to 1.93 percent, and that on similar-maturity Spanish debt dropped five basis points to 2.06 percent.
Inflation Swaps
The five-year, five-year forward inflation swap rate was at 1.64 percent on Thursday after closing at 1.61 percent on Aug. 24, the lowest since February. That compared with just under 2 percent when Draghi spoke in Jackson Hole last August.
In his strongest indication by then of the ECB's determination to avoid a Japan-style stagnation, Draghi said last year that the governing council "will acknowledge these developments and within its mandate will use all the available instruments needed to ensure price stability over the medium term."
ECB Vice President Vitor Constancio is scheduled to speak on a panel on Saturday at this year's gathering, where the theme is inflation and monetary policy. Federal Reserve Chair Janet Yellen has said she isn't attending this year's conference.
The discussions will take place days after New York Fed President William Dudley raised the possibility that market developments might make a September rate increase less likely and ECB Executive Board member Peter Praet said the institution was willing to expand its asset-buying program if commodity prices and slowing global growth threaten its inflation goal.
"Inflation expectations priced by the market have fallen to levels we judge to be too low," Francesco Garzarelli, co-head of macro and markets research at Goldman Sachs Group Inc. in London, wrote in an e-mailed note. "That said, the risks of protracted disinflation are higher in the euro area than in the U.S. Should downside risks to inflation materialize, the ECB could announce an extension of QE beyond September 2016."
Before it's here, it's on the Bloomberg Terminal.
LEARN MORE