Asian Rate-Cut Bets Swell on Yuan Devaluation in Boost for Bonds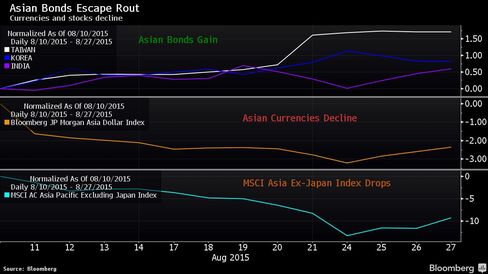 Most Asian bond markets are rallying as China's yuan devaluation helps contain inflation and gives central banks room to lower borrowing costs.
Local-currency sovereign notes have gained in China, India, South Korea and Taiwan since the Aug. 11 weakening of the yuan, which sparked the steepest slides in Asian stocks and currencies in four years. Commodities prices dropped to a 16-year low. Thailand and Philippine debt were little changed, while Indonesia and Malaysia recorded declines.
"Overall, Asian bonds will benefit because lower commodity prices will keep inflation low," said Rajeev De Mello, who oversees about $10 billion as head of Asian fixed income at Schroder Investment Management Ltd. in Singapore. "With China's move, it is a deflationary impact to the world."
Interest-rate swaps in India and South Korea are falling on bets slower gains in consumer prices will spur central banks to reduce interest rates, as the People's Bank of China did Tuesday. Nomura Holdings Inc. and Bank of America Merrill Lynch see India and Thailand lowering in the next seven months. Nomura anticipates Taiwan and South Korea may cut this year as their foreign reserves allow them to withstand capital outflows.
Taiwan and South Korea's sovereign bonds are leading the gains, with returns of 1.7 percent and 0.8 percent, respectively. The Bloomberg-JPMorgan Asia Dollar Index lost 3.2 percent over 10 days after the yuan's devaluation, while the MSCI Asia Pacific ex-Japan Index of shares dropped 13 percent.
A Bloomberg index of 22 commodities sank to the lowest level since 1999 this week amid concern demand is weakening in China, the world's largest consumer of raw materials.
Rate Forecasts
The Reserve Bank of India has cut its main policy rate by 75 basis points this year to 7.25 percent as inflation fell below its 6 percent target for January 2016. The Bank of Thailand reduced its benchmark rate by 50 basis points to 1.50 percent amid the worst deflation since 2009. Nomura predicts cuts of 25 basis points each in the two countries this year.
India's one-year interest-rate swaps fell to a two-year low of 7.28 percent on Thursday, while South Korea's sank to a record 1.55 percent on Aug. 24, data compiled by Bloomberg show.
Taiwan's central bank will likely lower its benchmark by 12.5 basis points next month, after keeping it at 1.875 percent since 2011, and there's an "increasing chance" of South Korea adding to four reductions in the past year, said Albert Leung, Nomura's Hong Kong-based rates strategist. Both economies count China as their biggest export market and had slashed their growth forecasts even before the yuan devaluation.
'Downward Pressure'
Besides lower commodities prices, Asian nations that are net buyers of Chinese goods also stand to gain as a weaker yuan makes these imports cheaper, said Bryan Carter, lead portfolio manager for emerging-market debt at Acadian Asset Management LLC, which oversees $70 billion. This will boost bonds in nations including India, the Philippines and Thailand.
"In the immediate term, the Chinese devaluation helps Chinese exports by making its goods cheaper to foreign buyers," Boston-based Carter said. "Lower priced exports exert downward pressure on global goods inflation."
Bonds of Malaysia and Indonesia, which export commodities from palm oil to minerals, have lost 1.5 percent and 1.7 percent since Aug. 10 amid concern their central banks will need to keep borrowing costs high to support their currencies and curb outflows amid dwindling foreign reserves.
Malaysia, Indonesia
"A deterioration in the terms of trade is causing the ringgit to weaken, which is fueling inflation in goods that Malaysia imports," said Carter from Acadian Asset. Indonesia "is very similar," he added.
Consumer-price gains in Malaysia accelerated to 3.3 percent in July, the fastest in almost a year, and to a 2015 high of 7.3 percent in Indonesia, official data show. The ringgit and rupiah are Asia's worst performers this year with losses of 17 percent and 12 percent, respectively.
Central banks that have scope to lower borrowing costs will do so even when the U.S. starts raising rates, according to Claudio Piron, co-head of Asian currency and rates strategy at Bank of America Merrill Lynch, which forecasts cuts of 50 basis points in India by mid-2016 and 25 basis points in Thailand this quarter.
"If inflation is undershooting your expectations, you have every justification to ease rates," Singapore-based Piron said. "The question for some countries is, if you get capital flight and your currencies are under pressure, can you still engage in that?"
Before it's here, it's on the Bloomberg Terminal.
LEARN MORE