As Yuan Falls, Samsonite Seeks Lower Prices From Suppliers
China sales rise almost 30% during first half of year

Chairman says he's become more confident about second half
Count Samsonite International SA among those seeking to take advantage of the weaker yuan.
The world's largest luggage maker, which farms out about 70 percent of its production to companies in China, is asking those suppliers to cut their prices, Samsonite Chairman Tim Parker said in an interview in Hong Kong this week, without providing specific figures. The company pays in U.S. dollars, meaning suppliers have room to lower what they charge since their costs are in yuan.
"The policy changes do have the desired effect that a customer is going to the manufacturer and saying, 'Look, obviously you are getting more renminbi,
so can we actually see if there's a way of getting some benefits to us?" the executive said.
While the biggest devaluation of the yuan in two decades contributed to the recent rout that evaporated of trillions of dollars in market value worldwide, Parker's comments help illustrate how the move is making it cheaper for global brands -- for example, most of Apple Inc.'s iPhones are made in China -- to manufacture their products in the world's factory floor. The former economist said he expects other companies to take advantage of the currency movements.
Sales in China during the first six months rose almost 30 percent from a year earlier to $130.4 million, driving the company's growth. Overall sales for the crucial months of July and August are so encouraging that Parker is more confident about the second-half outlook than he was a few months ago, he said.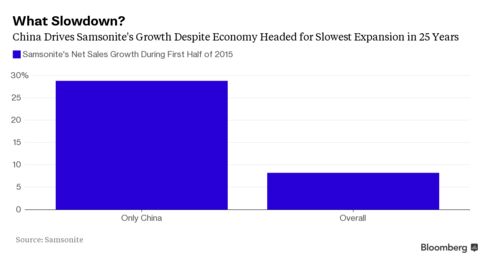 "If you look at global economic prospects, Europe is looking up, America is still recovering," while the medium-term prospects for China are still "very good," he said.
Not everyone shares Parker's optimism in China. Prada SpA and Yum! Brands Inc. are among companies that have recently voiced concern about falling sales in the world's second-largest economy, which is headed for its slowest expansion in a quarter century.
Samsonite shares gained 1.5 percent to close at HK$23.85 in Hong Kong Friday, the highest level in a week. The city's benchmark Hang Seng Index dropped 1 percent.
Before it's here, it's on the Bloomberg Terminal.
LEARN MORE