Yield Swing to U.S. Stocks From Bonds Provides S&P 500 Support
S&P 500 dividend yield surpasses 10-year Treasury yield

Citigroup: `Be buyers when most others run for the hills'
Yields are on the side of investors buying stocks in the wake of the past week's retreat, according to Tobias Levkovich, Citigroup Inc.'s chief U.S. equity strategist.
As the chart below shows, the dividend yield on the Standard & Poor's 500 Index is higher than the yield on 10-year Treasury notes, according to data compiled by Bloomberg.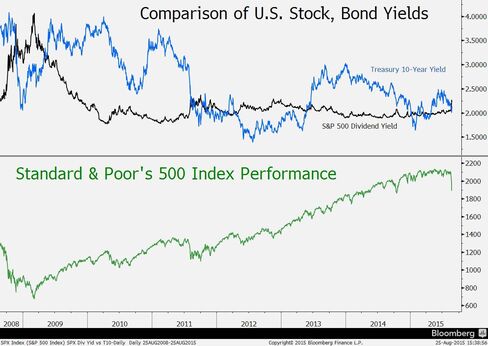 Stocks have yielded more since Aug. 20, when they began a four-day slump that sent the S&P 500 tumbling by 10 percent. Yesterday's gap was 21 basis points, or 0.11 percentage point, in favor of the index.
"When this trade has appeared previously, it was a good time to own equities," Levkovich wrote two days ago in a report. To illustrate the New York-based strategist's conclusion, the chart tracks the performance of the S&P 500 in a separate panel.
The chart begins in 2008, when the S&P 500 dividend yield surpassed the 10-year yield for the first time in half a century. Since then, the comparison has swung back and forth. The yield on stocks was higher by 37 basis points, this year's widest gap, on Jan. 30. In the next four months, the S&P 500 climbed as much as 6.8 percent.
"Investors should be buyers when most others run for the hills," Levkovich wrote. He expects the S&P 500 to end the year at 2,200, a gain of 18 percent from yesterday's close. The projection is lower than the average estimate of 2,233 among 21 strategists in a Bloomberg survey.
Before it's here, it's on the Bloomberg Terminal.
LEARN MORE