Two Kenyans First to Be Banned at World Athletics Championships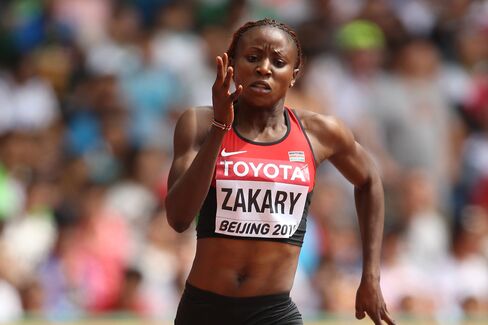 Two Kenyans have been suspended after testing positive at the world athletics championships, the global governing body of track and field said Wednesday.
The pair, 400 meter hurdler Koki Manunga and 400 meter runner Joyce Zakary, were the subject of "targeted" doping tests at Beijing hotels on Aug. 20 and 21, the two days before the event started, the IAAF said in an e-mailed statement.
Kenya is leading the standings with 10 medals, including five golds. Zakary set a national record of 50.71 seconds in the 400 heats Monday. But despite qualifying with the 8th best time, she didn't compete in the semifinals. Manunga finished second to last in her heat, running 58.96 seconds compared to a personal best of 55.82 seconds set in July in Nairobi.
Athletics has come under scrutiny after a series of reports this month by the Sunday Times and German broadcaster ARD sparked an investigation by the World Anti-Doping Agency.
Both media organizations reported that more than 800 athletes had recorded blood tests described by an expert as "highly suggestive of doping, or at the very least abnormal" between 2001 and 2012. They cited a leaked IAAF database of 12,000 blood tests from 5,000 athletes.
The IAAF and newly elected president Seb Coe said the reports were sensationalized and there was no proof of doping going unpunished. WADA said Aug. 7 it appointed a panel to investigate further.
Before it's here, it's on the Bloomberg Terminal.
LEARN MORE