Stock market and commodity price declines are sweeping the globe, raising a question: If the U.S. economy lands in another hole, what tools does it have to dig itself out?
Perhaps not many, or at least not as many as before the 2008 meltdown.
U.S. debt stands at 74 percent of gross domestic product, compared with 35 percent in 2007, based on a Congressional Budget Office report released Tuesday. That burden is expected to grow further in coming years, limiting government options for additional fiscal stimulus in the form of spending or lower taxes.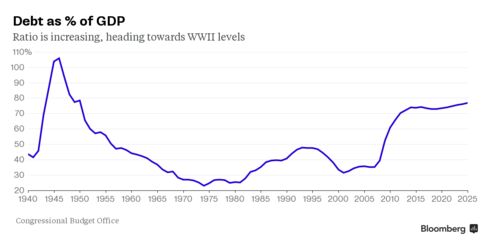 While the U.S. could follow in the footsteps of Japan, Ireland, Italy or Greece, which have racked up even higher debt-to-GDP levels, heftier deficits would be a hard political sell. After all, Congress has been loathe to borrow, curbing spending through "sequester" limits and pushing the nation to the brink of default in 2011 amid disputes over a debt-limit extension.
In recent years, the Federal Reserve has provided the stimulus that austerity-minded fiscal policy makers didn't. The central bank has held interest rates near zero since 2008 and carried out three massive asset purchase programs to boost the economy.
Now, cutting interest rates wouldn't be an option in the face of a big downturn. That means the Fed would need to once again turn to unconventional steps such as further asset purchases or increased forward guidance. They've done it before, so it's hard to make the case that they wouldn't do it again, but it does mean that a crucial option — interest rates — is missing from their toolbox.
Partly for that reason, the Bank for International Settlements has warned that still-low rates around the world pose a looming economic risk.
"Restoring more normal conditions will also be essential for facing the next recession, which will no doubt materialise at some point," according to an annual report from the organization of central banks. "Of what use is a gun with no bullets left?"
"Monetary policy normalisation should be pursued with a firm and steady hand," the group advised.
Before it's here, it's on the Bloomberg Terminal.
LEARN MORE