Saudis Appeal for Royal Guidance on Economy as Stocks Gyrate
Tadawul stock index is worst performer in the Middle East

Hajj pilgrimage tops agenda in Riyadh rather than rout
Saudi plastic surgeon and stock-market investor Sami al-Harki is looking for help.
Al-Harki already lost 40 percent on his shares, but doesn't want to sell before the Saudi government tells him how it plans to address the Gulf nation's biggest economic challenge for years. An official said this month's 16 percent plunge in the benchmark Tadawul index, which entered a bear market, was just following a global trend. Preparations for the annual hajj pilgrimage topped the agenda of Monday's cabinet meeting.

"How can I make any decisions amid this silence?" al-Harki, 42, said by phone from Riyadh. "As an investor, silence is a sign that something is wrong."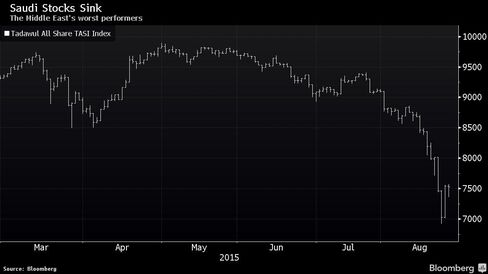 Oil, which accounts for more than 90 percent of revenue, has more than halved in price over the past 12 months, putting pressure on the finances of the Arab world's largest economy and its currency. While officials have been silent about the government seeking advice on budget cuts, two people familiar with the matter said this week the kingdom is looking into shelving billions of dollars of spending.
King Salman, who came to power in January, is in Morocco on holiday. The last public appearance of his son, Deputy Crown Prince Mohammed, chairman of the Council for Economic and Development Affairs, was on Aug. 10, according to the official SPA news agency. Finance Minister Ibrahim al-Assaf is out of town and his ministry declined to comment on the latest economic developments.
Twitter Post
Saudi businessman Khaled al-Shathry called on Prince Mohammed via Twitter to "convince the people there's an economic leadership concerned over their interests." He wanted the prince to "save our market from the officials who destroyed it." He declined to say anything further when contacted by phone.
Nora Jandal, an investor for 10 years, decided not to wait to see what the authorities had to say. She sold her shares on Monday because "it looks like this will take a long time," Jandal said by phone from Riyadh.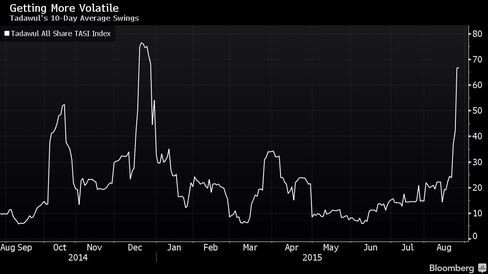 That day, the Tadawul sank 5.9 percent before rebounding in the following session as volatility increased to the highest this year. It closed down 2.1 percent on Wednesday before jumping more than 4 percent today.
Tricky Situation

The immediate problem facing Saudi Arabia with an oil price below $50 and Iran seeking to sell more crude on the market is how to maintain the wealth and social perks the nation of 30 million has become used to.
The government is working with advisers on a review of capital spending plans and may delay or shrink some infrastructure projects to save money, the people familiar with the talks said, asking not to be identified because the information is private.

Reforms could have been introduced during the decade of plenty when oil prices were high and the economy was at its strongest, according to Simon Williams, chief economist for the Middle East and North Africa at HSBC Holdings Plc in London.
"There are no easy answers to the serious challenges that the Saudi economy is facing, no quick fixes," he said. "Policy makers now find themselves trying to reform the economy when oil prices are low and pressures are at their most acute, an uncomfortable, and highly challenging proposition."
Saying Something
When it comes to commenting on the economy and its plans, Saudi officials have promised more transparency. Mohammed Al-Jadaan, chairman of the Capital Market Authority, said in May he will "ensure that the disclosure of information is sufficient enough to allow investors to make informed decisions" about the market. Little has followed.
The central bank has commented on the currency. Ahmed Alkholifey, deputy governor for research and international affairs, told Al Arabiya television on Tuesday that authorities will maintain the Saudi riyal's peg at 3.75 per dollar.
It also said on Tuesday it expects the Saudi economy to expand 3 percent this year, roughly in line with the International Monetary Fund's projection of 2.8 percent, Arabiya TV reported.
Having a Saudi official speak about the challenges isn't going to add anything because the $750 billion economy can't be structured in a few weeks, Beshr Bakheet, managing director of Osool & Bakheet Investment Company, said by phone from Riyadh.
The current challenges are "an excellent wake-up call for our top planners to reconsider the risk of" their dependence on oil, Bakheet said. The kingdom still has tools to deal with the situation, including cash reserves and low debt, he added.
Meanwhile, al-Harki, the plastic surgeon, wants to hear what they have to say because once he decides to sell his shares, he won't return to the market. "Impossible," he said.
Before it's here, it's on the Bloomberg Terminal.
LEARN MORE