RBC Profit Rises 4%; Dividend Lifted as Canada Earnings Grow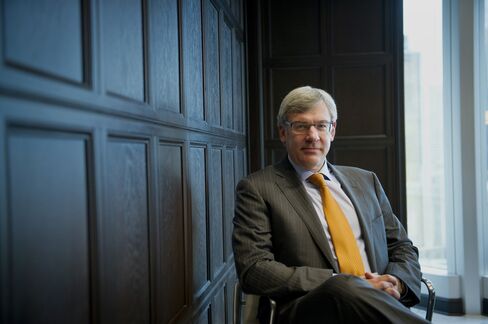 Royal Bank of Canada, the country's largest lender, lifted its dividend after reporting a 4 percent gain in fiscal third-quarter profit on record earnings from domestic banking.
Net income for the period ended July 31 rose to C$2.48 billion ($1.86 billion), or C$1.66 a share, from C$2.38 billion, or C$1.59, a year earlier, the Toronto-based company said Wednesday in a statement. Adjusted profit, which excludes some items, was C$1.68 a share, beating the C$1.67 average estimate of 14 analysts surveyed by Bloomberg. Royal Bank boosted its dividend 2.6 percent to 79 cents.
RBC's stock has dropped 10 percent this year as Canada's resource-driven economy sputters, with the collapse in oil prices pressuring earnings amid a consumer-lending slowdown. Profit from Canadian banking rose 4.6 percent from a year earlier, helping counter declines from capital markets and insurance.
"People have underestimated the resiliency of their earnings," said Ian Nakamoto, director of research at MacDougall MacDougall & MacTier Inc. in Toronto, which oversees about C$5 billion. "Personal and commercial banking continues to deliver, even though we're in a weak economic environment."
Profit from personal and commercial banking, which includes the Caribbean and the U.S., rose 13 percent to C$1.28 billion, Royal Bank said.
The bank's earnings reflect "underlying strength across our businesses and strong execution in a challenging environment," Chief Executive Officer David McKay, 51, said in the statement.
Trading Weakness
Revenue slipped 1.8 percent from a year earlier to C$8.83 billion, Royal Bank said. The lender set aside C$270 million for bad loans, a decrease of 4.6 percent.
Capital markets earnings fell 15 percent to C$545 million on lower revenue from trading and investment-banking fees. Underwriting and advisory fees slid 3.8 percent to C$531 million, while trading revenue across the bank fell 21 percent to C$679 million, pulled down by bonds and equities trading.
Wealth-management profit was little changed at C$285 million, and insurance declined 19 percent to C$173 million. Investor and treasury services, which includes Royal Bank's global custodial business, rose 52 percent to C$167 million.
Energy Loans
Royal Bank, the second Canadian lender to report quarterly results, follows Bank of Montreal in beating analysts' profit estimates. Bank of Montreal yesterday posted record profit of C$1.19 billion, up 5.9 percent from a year earlier, on retail banking and wealth management gains.
RBC, like Bank of Montreal, showed a spike in impaired oil and gas loans. Impaired loans in the industry almost quadrupled to C$183 million in the quarter from C$46 million in the second quarter, and were only C$5 million in the first quarter.
National Bank of Canada also reported results that beat estimates Wednesday. The Montreal-based lender posted third-quarter profit of C$453 million, up from C$441 million a year earlier. Adjusted earnings were C$1.25 a share, topping the C$1.19 estimate.
Before it's here, it's on the Bloomberg Terminal.
LEARN MORE