Levered ETF Bets on U.S. Stocks Go Bananas After Drop
Money surges into triple-levered exchange-traded stock funds

$2 billion short-term Treasury ETF sees $937 million inflows
"Go big or go home" is what the cool kids say, and yesterday exchange-traded fund investors did the former: they went big on tripled-leveraged bets that stocks will rebound and other bets that short-term Treasuries will gain.
Analyzing flows like this for one single day may not tell us much about longer-term investor sentiment, but let's do it anyway! At the very least, it may give some of us a chance to take the temperature of sentiment during yesterday's wild ride (not to mention give others of us a way to meet a quota for a daily column.) But make no mistake: these were not your everyday, single-day flows. They were, to use the technical jargon, BANANAS!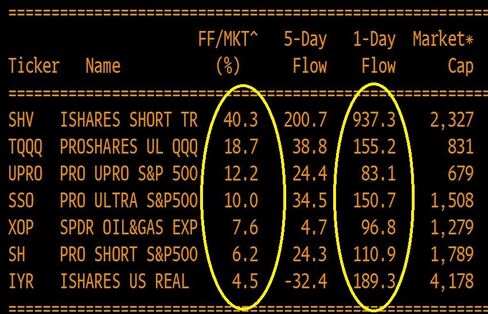 The iShares Short Treasury Bond ETF, an exchange-traded product tracking short-term Treasuries, saw $973.3 million in inflows yesterday -- a whopping 40 percent of its market cap. Meanwhile, triple-leveraged bets that stocks in the Nasdaq 100 Index and S&P 500 will rebound also saw deposits equal to at least 12 percent of their market cap, as seen by flows into the products with the ticker symbols TQQQ and UPRO. (For those not quite ready to go THAT big on the S&P 500, the double-leveraged SSO saw flows equal to 10 percent of its market cap.)
Now, if you're a pro, you may be thinking "hey dummy, those flows could be a sign of demand from market makers who have clients that want to short stocks."
Anyway, dummy, looking at the short interest on these funds it doesn't appear like shorts were driving the bus. The bets against the triple-leveraged Nasdaq 100 fund did tick up a bit yesterday, but at 0.9 percent of shares outstanding they are way below the almost two-year high of 2.6 percent seen last month, according to Markit Ltd.'s data on short interest. (Note: short interest is a reference to the amount of shares borrowed and sold in hopes of further declines, and has nothing to do with Danny DeVito's love life.) The short interests on the other levered equity funds tell a similar story.
To be sure, the short-S&P 500 fund with the ticker symbol SH saw some decent inflows too and the ETF tracking the Dow Jones Industrial Average saw 9.5 percent of its market cap flow out. But the short ETF (ticker: SPXU) that seeks to provide gains that are three times the size of losses in the S&P 500 saw about 8 percent of its market cap flow out.
To summarize, it looks like the leveraged stock bulls in the ETF market went big yesterday, and the bears went home.
(Corrects description of Treasury ETF in first and second paragraphs.)
Before it's here, it's on the Bloomberg Terminal.
LEARN MORE