Kenyan Equities Slump to 16-Month Low as Bears Take Hold
Kenyan shares tumbled for an 11th day, the longest losing streak since December 2013, dragging equities in East Africa's biggest economy deeper into a bear market.
The FTSE NSE 25 index dropped 2.9 percent to 177.80 as of 2:55 p.m. in Nairobi, the capital, the lowest level since April 2014. The gauge has declined more than 24 percent from this year's closing high on Feb. 25, meeting the common definition of a bear market.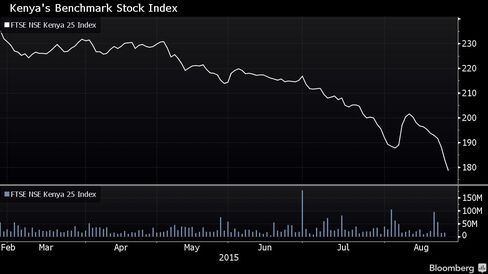 Economic growth in Kenya is slowing as the country's $1 billion-a-year tourism industry, the biggest source of foreign currency after tea exports, contracts following a spate of attacks by Islamist militants. With a drought cutting tea production, the currency has also suffered, falling 15 percent this year against the dollar. Business is slowing, said Aly-Khan Satchu, chief executive officer of Rich Management, an adviser to wealthy investors.
"We had a series of results which are not that compelling and added to external factors, the stock exchange is going to go lower," Satchu said by phone from Nairobi.
Kenya Airways Ltd., sub-Saharan Africa's third-biggest carrier, reported the country's biggest ever corporate loss last month, of 25.7 billion shillings ($248 million) in the year through March.
Kenya's economy expanded 4.9 percent in the first quarter from a year ago, down from 5.5 percent in the three months through December. The Treasury projects growth of 6.5 percent to 7 percent this year as it anticipates a rebound in the second half will offset the first quarter slowdown.
Compounding the negative outlook for domestic stocks is the fact that bonds and Treasury bills currently offer better returns than equities, said Francis Mwangi, senior analyst at Standard Investment Bank Ltd. in Nairobi. The yield on 91-day Treasury bills rose to 11.56 percent at an auction on Aug. 20, while 12-month debt climbed to 13.05 percent from 13 percent, according to data compiled by Bloomberg.
"Investors have been shying away from the equities for Treasury bills and bonds, where rates are higher," Mwangi said.
Before it's here, it's on the Bloomberg Terminal.
LEARN MORE