Hedge Funds Suddenly Find Real Money Is Back in Argentina's Debt
Invesco to BlackRock have added to positions in recent months

Dollar bond prices at 19-month high to euro-denominated notes
The real money is back in Argentina.
Before the country's default in July 2014 (its second in 13 years), most long-term investors abandoned its bond market. As they rushed out, Argentina became a favorite of the hedge-fund crowd, which made speculative bets on the fortunes of the troubled nation.
But in recent months, that's started to change.
With presidential elections in October set to usher in a new administration, money managers from Invesco Ltd. to Allianz SE and Van Eck Global have begun to wade back into Argentina's dollar-denominated bonds.
Those "real-money accounts," industry speak for long-term investors such as mutual funds and pensions, are resurfacing on optimism that Argentina will, once and for all, resolve its differences with holdout creditors and end the country's decade-long isolation from international markets.
"We decided to start stepping back," said Sean Newman, who helps oversee $1.5 billion of emerging-market debt at Invesco, which began rebuilding its debt positions in Argentina in the first quarter. "The macro imbalances which exist right now are not sustainable. There is recognition of a needed adjustment."
Van Eck, Allianz, BlackRock Inc., and T. Rowe Price Group Inc. joined Invesco by adding to their bond holdings in Argentina last quarter, filing data compiled by Bloomberg show.
They're taking a page from hedge-fund managers such as George Soros and Daniel Loeb, who together have staked billions betting that whoever succeeds President Cristina Fernandez de Kirchner will unwind some of her most radical policies, which have spurred runaway inflation, sapped foreign investment and all but shut Argentina out of overseas debt financing.
The re-emergence of long-term investors can be seen in the widening gap between Argentina's dollar-denominated bonds, which are included in a widely followed emerging-market sovereign debt index compiled by JPMorgan Chase & Co., and the nation's euro securities, which are not.
The gap reached 11.2 cents on Aug. 21, the widest since January 2013.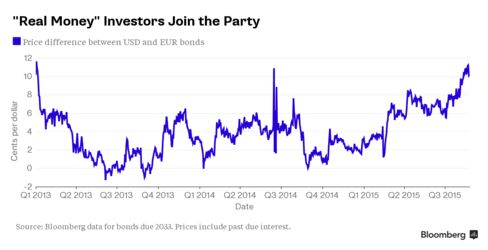 "What's giving you the prices you see on the screen are real-money accounts buying Argentina on the margin," said Sebastian Vargas, a strategist at Barclays. "They're indexed to dollar assets."
In May, Morgan Stanley surveyed about 50 clients and found that the majority who used indexes to benchmark performance were "underweight" in Argentina.
The survey also found that 80 percent planned to either boost or cull their positions well before the presidential election was held on Oct. 25. And if "early indications point towards a more favorably perceived election outcome," those investors would move quickly to build their holdings, according to a report dated June 2.
While ruling party candidate Daniel Scioli is favored to win, he will probably move toward a "more independent platform" and "deliver a message of gradual change" to gain more votes and avoid the possibility of a run-off, according to Iker Cabiedes, an economist at New York-based JPMorgan.
That may include ultimately resolving a dispute with billionaire Paul Singer's hedge fund Elliott Management, which triggered Argentina's second default. Fernandez has refused to negotiate with the hedge fund.
Scioli said in a speech at the Council of the Americas on Wednesday that he would make necessary changes in Argentina, and that the country must attract investment.
Optimism about the next administration has helped shield Argentina from this month's global selloff, said Yerlan Syzdykov, a money manager at Pioneer Investments. Argentina has the developing world's best-performing bonds this month, while emerging markets have lost 2.4 percent.
"Investors are pricing in that the most-relevant candidates are putting the normalization of the debt situation as a goal on their agenda," said Agustin Honig, the head of sales and trading at AdCap Securities in Buenos Aires.
Before it's here, it's on the Bloomberg Terminal.
LEARN MORE