Greek Banks' Senior Creditors May Prove Hard to Write Down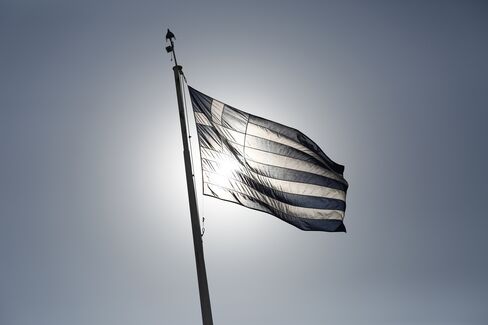 Senior creditors, placed firmly on the hook for losses in the euro-area plan for recapitalizing Greek banks, may end up wriggling free.
Finance ministers singled out senior bondholders for writedowns as part of the third Greek bailout, with as much as 25 billion euros ($29 billion) "available if needed" for bank recapitalization and resolution. The European Central Bank is assessing Greek lenders' balance sheets.
If the ECB finds capital gaps, Greece's creditors have a number of options. Only one -- putting a bank into resolution -- triggers bail-in rules that could extend to seniors.
"I don't sense now that they are up to closing one of the four big banks," said Guntram Wolff, director of the Brussels-based Bruegel research group. "I don't see that really happening at this stage."
The markets read the finance ministers' decision loud and clear when it came late on Friday, Aug. 14. On the following Monday, senior notes of Greece's four biggest banks plummeted. National Bank of Greece SA's 750 million euros of 4.375 percent bonds due April 2019 fell almost 30 percent on Aug. 17 and continued to decline all week, data compiled by Bloomberg show.
Unimaginable Consequences
Saving the banks is a central part of the rationale behind Greece's new 86 billion-euro bailout, European Stability Mechanism chief Klaus Regling told reporters Thursday in Berlin. The four big Greek lenders are among the euro area's 130 systemically relevant banks and make up as much as 90 percent of the Greek banking system, he said.
"In the case of a Grexit, these four banks would have been broke and the consequences of this are unimaginable and wouldn't have spared banks in other euro-region countries," Regling said. He said the bailout was also needed to make clear that joining the euro is irreversible.
The path to writing down senior bank debt as part of Greece's bailout isn't as straightforward as the market reaction might suggest. Once the ECB's verdict is in, recapitalization options include private offerings, precautionary aid and a full-scale bailout with writedowns.
The finance ministers emphasized their intention to squeeze private investors as part of recapitalization. Following the ECB stress test and asset-quality review, "the bail-in instrument will apply for senior debt bondholders, whereas bail-in of depositors is excluded," the Eurogroup said.
Maximum Delay
It's less clear how euro-area leaders will follow through on this declaration. For starters, Greek law as it stands provides only for writedowns of shareholders and junior bondholders in line with EU state-aid rules.
The ECB will probably find a capital shortfall of as much as 15 billion euros for the Greek banking system as a whole under an adverse stress test scenario, Barclays Plc analysts led by Christy Hajiloizou said in an Aug. 14 note.
The ECB assessment will take "a few weeks," and recapitalization should happen before the end of the year, Executive Board member Benoit Coeure said.
If Greece needs to tap aid money to shore up its banks, the case for bailing in senior creditors strengthens.
Under the EU's Bank Recovery and Resolution Directive,, "the need for extraordinary public financial support for an institution should be considered as an indicator that this institution is failing or is likely to fail, and therefore triggers the need for resolution," according to the European Banking Authority.
Yet the law also gives politicians an alternative. When public support is used to address a capital shortfall identified in a stress test or asset-quality review, such as the ECB is conducting on Greece's banks, it "may not be considered as a trigger for resolution when it is provided to remedy a serious disturbance in the economy of a member state and to preserve financial stability," the EBA said.
European Leeway
Making that argument for Greece, whose economy has been on life support for years, shouldn't be difficult if politicians want to prop up the banks with such a "precautionary" capital injection.
Even if a Greek bank is put into resolution, euro-area authorities will have to consider what would be gained by an aggressive writedown of private investors. The country's four main lenders have about 57 billion euros of senior bonds outstanding, of which only 4.2 billion euros aren't covered by government guarantees, according to Alberto Gallo, a credit strategist at Royal Bank of Scotland Group Plc.
And BRRD provides tools other than bail-in for tackling a failing bank. For example, senior bonds could be transferred to a so-called bad bank, "where we would still expect final recovery to be significantly below current cash prices," the Barclays analysts said.
"There are different ways of doing recapitalization of a bank, and bail-in is only one of these," said Karel Lannoo, chief executive officer of the Centre for European Policy Studies in Brussels. "They have some leeway under European law until the end of this year."
Before it's here, it's on the Bloomberg Terminal.
LEARN MORE