Ex-Lehman M&A Chief `Chainsaw' Helps Bring Golf Playoffs to N.J.
Zoidis got Plainfield course ready by felling overgrown trees

Left Wall Street at age 43 in 2002 to pursue other interests
Paul Zoidis walked away from Wall Street at age 43, stepping down from Lehman Brothers Holdings Inc. in 2002 as co-head of global mergers and acquisitions after working on deals that totaled more than $150 billion.
Zoidis, who started the firm's telecommunications division in the 1990s, said at the time that he wanted to spend more time with his family and pursue outside interests. Golf is one of his passions, and Zoidis, now 55, has one of the biggest roles in organizing this year's first U.S. PGA Tour playoff event: the Barclays at Plainfield Country Club in New Jersey, where the top golfers in the FedExCup standings begin their pursuit of a $10 million bonus.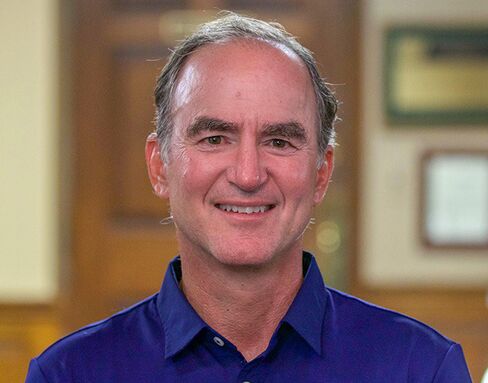 A caddie as a youth in Philadelphia, Zoidis has been Plainfield's tournament coordinator for PGA Tour playoffs for the past six years. It's an unpaid and unheralded role in which he oversees 15 vice chairs who direct everything from parking, walking scorers and fan shuttles to evacuation plans, which came into play in 2011 when Hurricane Irene shortened the event to 54 holes.
"I loved what I did on Wall Street, but I was ready to start a new chapter in my life," Zoidis said in an interview. "I've moved on from that 100 percent."
Zoidis, who has a 3.8 handicap, has been a long-time supporter of golf, and in 2009 helped create the First Tee program at Plainfield to promote youth involvement in the game. Plainfield, about 45 miles from Manhattan, was the first country club in the U.S. to become a First Tee facility.
Barclays Rotation
Plainfield four years ago joined a rotation of New York-area clubs for the Barclays that includes New York's Bethpage Black and newly added Glen Oaks, and fellow New Jersey courses Liberty National and Ridgewood, partly because of Zoidis's efforts. A Plainfield member, he faced some initial resistance from the PGA Tour as mature trees significantly changed Donald Ross's original design. In addition to making fairways tighter, they hampered the ability of fans to freely move around the course.
"We always liked the golf course, but I felt it was going to be pretty difficult to stage," said Peter Mele, executive director of the Barclays tournament. "At one point, I brought the head of our department to Plainfield and he said, 'There's no way we're going to go here.' But you could really see the potential."
Zoidis helped oversee the removal of more than 1,000 trees, following the path of venerable major championship sites such as Oakmont, Winged Foot, Olympic and Baltusrol in attempting to recapture their architectural heritage. It also earned Zoidis the nickname "Chainsaw," which today is still stamped on all his Titleist Pro-V1 golf balls.
Returning Balls
"If another member finds one on the course, they unfortunately know exactly who lost it," Zoidis said with a grin during a recent round as he showed off changes and fan amenities at Plainfield.
Zoidis pointed out the camouflage-adorned military appreciation pavilion -- more than 2,000 complimentary tickets will be handed out to members of the military and their families this week -- and the location of food trucks on the 13th hole that feature fare from Thai to pizza to lobster rolls. He highlighted key spectator viewing areas and thoroughfares, firing off planning e-mails in between, and made it midway through the course before excusing himself to run a meeting about a catering order for players.
"He really wants to roll his sleeves up and get engaged," Mele said of Zoidis. "You really get to see his dedication and passion."
Drug Testing
The food preparation takes more diligence than it would for club members, Zoidis explained, as there are ingredients and types of food that could potentially foul up the PGA Tour's drug tests. It's a different kind of challenge for Zoidis, who advised Vodafone Group Inc. on $3.2 billion of convertible bond sales in 1999 and MediaOne Group Inc. on its $64 billion sale to AT&T in 2000.
The Barclays will use about 1,850 volunteers this week, from scorers with each group to marshals who control crowds expected to be in excess of 20,000 a day. None will have had a bigger role than Zoidis, who in addition to his position as co-head of mergers at Lehman also was communications and media chief and had seats on the company's operating committee and the operating committee of the investment banking division.
13 Scholarships
"This has been a great experience," said Zoidis, who in addition to Plainfield is a member at Merion Golf Club in Philadelphia and Telluride in Colorado. "I always wanted to teach or help kids in some fashion. This tournament plays such a big part in our local charities, so the 2011 Barclays sent 13 kids to college on scholarships who never would have had that chance."
The Barclays field includes 121 of the top 125 players in the season-long FedExCup rankings, with Rory McIlroy the highest-ranked player not in the field this week. After Plainfield, where play starts Thursday, the top 100 in the FedExCup rankings will qualify for the Deutsche Bank Championship, while the field is then cut to 70 for the third playoff event: the BMW Championship. The top 30 players following the BMW Championship advance to the Tour Championship, where the $10 million bonus will be awarded.
'Very Rewarding'
Now more than a decade removed from his days on Wall Street, Zoidis said he doesn't miss it a bit. The man nicknamed "Chainsaw" got to spend a lot of quality time with his son and daughter, now 23 and 26 respectively, as they grew up, and pursue his passion for golf at one of the sport's highest levels while helping raise money for underprivileged youth.
"Both sides have been very rewarding," Zoidis said of his transition from working in the financial community. "I really wouldn't change any of it."
Before it's here, it's on the Bloomberg Terminal.
LEARN MORE