EU Investment Plan Rolls Out Projects as Impact Unclear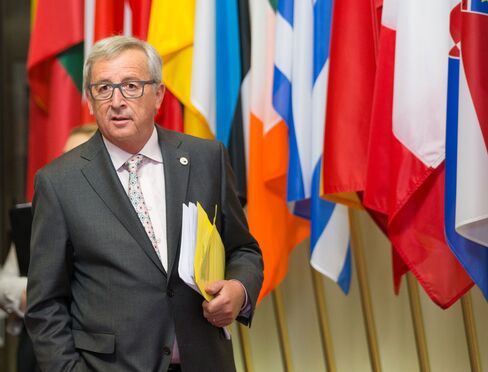 European Commission President Jean-Claude Juncker promised his investment plan would pump 315 billion euros ($361 billion) into the European Union's economy.
A month after winning approval from EU nations and the European Parliament, the projects are starting to roll out under the plan and banks and national development authorities are signing on, giving taxpayers and financial markets a first chance to see the program in action as they assess whether they think it will work.
"The investment plan is taking shape and producing results," Commission Vice President Jyrki Katainen said in an e-mail interview.
The investment program was designed to bolster the European Investment Bank so it can take more risk in picking projects to support. The program also targets small and medium-sized businesses through collaboration with the European Investment Fund, a part of the EIB that focuses on start-up firms and smaller companies.
Financial markets aren't convinced the EU economy will get much of a push. Because the plan relies on national promotional banks and other authorities to amplify and implement its aims, it isn't clear how much new money will be pumped into the economy, Erik Nielsen, global chief economist at UniCredit Bank AG, said in a telephone interview.
"The best thing about the Juncker plan was it brought the issue of public investment into the headline and people started to think about it a little bit more," Nielsen said, adding that he is "relatively skeptical" that the plan will lead to noticeable new growth.
"We haven't actually bothered to try to estimate any sort of quantitative number," Nielsen said. "I just can't get to a number that even registers with the spreadsheet."
The Brussels-based commission counters that the plan is beginning to have an impact now that it's able to reach out to specific projects. Katainen said there's no deadline to apply for loan guarantees or technical support, nor are project backers required to go through a national intermediary.
"Some examples include investing in renewable energy in Denmark, modernizing a steel plant in Italy, implementing new technologies at a paper mill in Finland, and creating an investment platform for increasing energy efficiency in homes in France," Katainen said. "Not only do these investments improve our societies, but they also bring hundreds of jobs to our citizens."
Here's an overview of how the investment plan works, including which nations have signed up, what projects are on the books so far and what pots of money are expected to be used.
How It Works
The plan aims to use 5 billion euros from the European Investment Bank alongside 16 billion euros in EU guarantees. The public financing is intended to generate a 15-to-1 multiplier effect. Projects are required to involve at least some private investment, to make the most of public money.
The investment plan's core, the European Fund for Strategic Investments, should be up and running by September. The fund will offer project guarantees so the EIB can aid projects that wouldn't normally qualify because of their risk.
As part of the start-up process, the commission and the EIB have agreed on a scoreboard for evaluating projects to see if they're a good fit for the program. They also named four officials to the program's steering committee: Maarten Verwey, Gerassimos Thomas and Irmfried Schwimann from the European Commission and Ambroise Fayolle from the EIB.
So far, nine countries have pledged a total of 42.6 billion euros through their development banks in support of the investment plan. To spark small-business financing, the EIF also has signed guarantee deals with banks in Italy, Poland, the Czech Republic, Germany, Denmark, Belgium, Luxembourg, Romania, Bulgaria, France, Ireland, the Netherlands and the U.K.
The EIB offered pre-financing for nine projects expected to be part of the investment plan, according to data provided by the commission. Those projects foresee 1.3 billion euros in EIB contributions, with total costs at 3.76 billion euros for six of the projects while totals for the other three projects have not been disclosed.
Nine Countries
Here is a breakdown of what countries have pledged to the investment plan through their national development banks: * Germany: 8 billion euros via KfW Group * Spain: 1.5 billion euros via Instituto de Credito Oficial * France: 8 billion euros via Caisse des Depots and Bpifrance * Italy: 8 billion euros via Cassa Depositi e Prestititi * Luxembourg: 80 million euros via Societe Nationale de Credit et d'Investissement * Poland: 8 billion euros via Bank Gospodarstwa Krajowego * Slovakia: 400 million euros via Slovensky Investicny Holding and Slovenska Zarucna a Rozvojova Banka * Bulgaria: 100 million euros through the Bulgarian Development Bank * U.K.: 6 billion pounds (8.5 billion euros) made available by British government
EIB projects
These are the projects in the EIB's pipeline that have been earmarked for investment-plan guarantees: * Denmark: Copenhagen Infrastructure II -– proposed EIB amount about 75 million euros, total project cost as much as 2 billion euros * Spain: Abengoa research, development and innovation II -- proposed EIB amount 170 million euros, total cost 340 million euros * France: Energy efficiency in residential buildings -- proposed EIB amount 400 million euros, total cost 800 million euros * Spain: Grifols Bioscience R&D -- proposed EIB amount 100 million euros, total cost not disclosed * Finland: Aanekoski bio-product mill -- proposed EIB amount 275 million euros, total cost not disclosed * Spain: Redexis Gas Transmission and Distribution -- proposed EIB amount 125 million euros, total cost 250 million euros * Italy: Arvedi Modernization Program -- proposed EIB amount 100 million euros, total cost 227 million euros * Ireland: Primary healthcare centers PPP -- proposed EIB amount 70 million euros, total cost 142 million euros * Austria: Vienna Hospital Program -- proposed EIB amount and total cost not disclosed
Before it's here, it's on the Bloomberg Terminal.
LEARN MORE