Erdogan Gives Turkey Preview of Collapse Before It Votes Again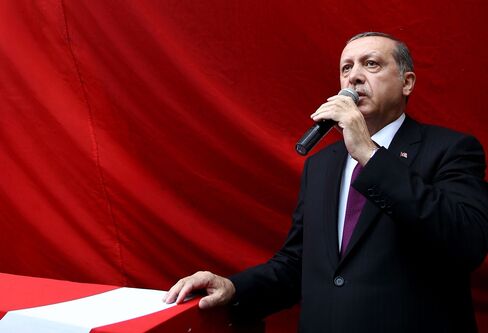 The president has a message: side with me or risk chaos

Markets have sunk before the election called for Nov. 1
His dream of becoming Turkey's most powerful president in a century on hold, Recep Tayyip Erdogan is giving voters a preview of what he says is at a stake.
In a non-stop campaign over the past year, Erdogan laid out an alternative that bordered on the apocalyptic: social upheaval, political instability and economic collapse. Without him firmly in control, he told them, Turkey's "multi-headed" system would condemn it to decay, paralyzed by indecision and dragged into chaos by its enemies.
"Give me 400 lawmakers and let's solve this in peace," Erdogan said in a now-famous warning, exhorting voters to give the AK Party he founded an overwhelming majority in parliament. On June 7, Turkish voters gave it just 258 lawmakers, and as promised, chaos ensued.
With the nation now heading for a repeat election on Nov. 1, Erdogan, 61, is urging Turks to reconsider granting him the powers he's requested and turn the job of president from a figurehead to a leader. He wants to run the country "like a company," with him as its chief executive. Yet his fight threatens to backfire on an economy that's been sputtering for two years.
Melting Markets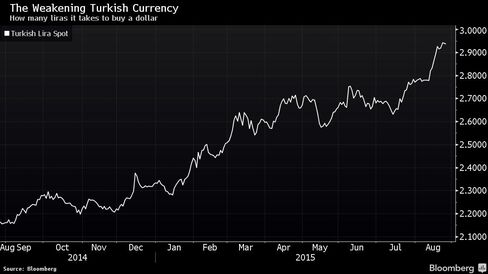 Growth of about 2 percent compares with an average of 4.9 percent since Erdogan and his AKP first won office in 2002 in the wake of an earlier financial meltdown. The currency, the lira, has weakened by 26 percent against the dollar in the past year.
"For the foreseeable future, I think that we're in a Turkish-style stagflation," said Mert Yildiz, a senior economist at Roubini Global Economics in London.
Longer-term prospects are darker, said Yildiz: "People who live with instability tend to become more distant to concepts like freedom and democracy. They conform to dictatorships more easily."
Such warnings mark a far cry from Erdogan's heyday, when the Islamist former mayor of Istanbul was praised for leading Turkey out of economic crisis, slowing inflation and slashing the government deficit.
He brought Turkey closer than ever to European Union membership, negotiated peace with Kurds, and won Turkey an investment-grade credit rating, opening the taps for tens of billions of dollars in foreign investment. Per-capita income in dollar terms rose by 50 percent since 2003.
Investors Leave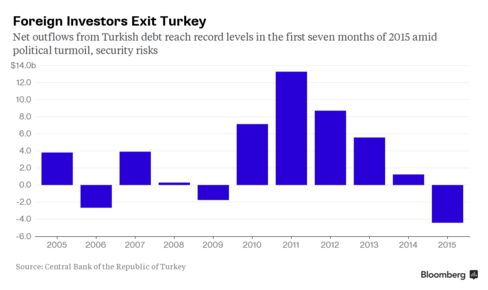 Now, capital is headed out. Foreign investors have sold a record $5 billion in Turkish stocks and bonds this year. The military began fighting a renewed Kurdish insurgency after a pro-Kurdish party won parliament seats for the first time in the June 7 vote; terror has reached central Istanbul, the metropolis of 14 million people that straddles Europe and Asia.
The economy may contract for a second year in dollar terms, shrinking by about $100 billion from its high of $820 billion two years ago. That puts Erdogan's promise to make Turkey one of the world's 10 largest economies by 2023 all but out of reach.
That's the year when he expects to preside over the centenary of the Turkish Republic, founded by the last leader to hold so much power, Mustafa Kemal Ataturk. Phone calls and an e-mailed request to Erdogan's office for comment this week went unanswered.
"The economy ran on borrowed money and borrowed time for a long time," said Dani Rodrik, an economist at the Harvard Kennedy School of Government. "The return to reality might prove very harsh."
One Man
Former comrades like Abdullatif Sener, a founding father of the governing AKP that Erdogan led for 12 years, say the country is paying the price of tying its progress so inextricably to the ambitions of one man. Erdogan became so intent on gaining absolute control of the state that he lost sight of what made him successful, equating Turkey's debt-fueled boom days with his increasingly firm grip on power, he said.
"He's looking for ways to keep his grip on powerful, unquestioned rule," said Sener, who split from Erdogan in 2008.
In the early years, Erdogan and his partners thrived along with other emerging markets, as they implemented a program overseen by the International Monetary Fund.
Government-led auctions and privatizations of some $60 billion in state assets created new tycoons, while businessmen with connections to Erdogan gained prominence and wealth in fields ranging from infrastructure and construction to energy and media. That polarized society and began to worry investors.
"It might be that the IMF represented confidence for international investors," Sener said in an interview. "But in the periods that followed, when developments occurred that increased anti-democratic perceptions and raised doubts about basic rights and freedoms and the rule of law, the reservations of international capital about Turkey deepened."
Corruption, Protests
Those developments included the Gezi Park protests over Erdogan's plans to build a shopping mall in a public park in Istanbul in 2013, which snowballed into a nationwide uprising after police tear-gassed the demonstrators.
A corruption probe the same year was shut down after Erdogan purged thousands of bureaucrats and had the prosecutors themselves prosecuted, claiming a coup against him. Then there was criticism of the central bank, which rattled markets.
As forces of opposition rallied against him, Erdogan moved ahead in giving himself the trappings of a powerful presidency. He ordered construction of a palace four times the size of Versailles and bought a $185 million jet. His ruling party allies gave him a discretionary secret budget, and he traveled the nation rallying supporters to vote for AKP, disregarding a presidential oath of impartiality.
De Facto Leader
All he needed was a presidential system.
"By all means, the president acts within the limits of authority defined by the constitution, but he also carries out his duties from a position of direct responsibility toward the people," Erdogan told supporters in his home town of Rize on Aug. 14. "What we need now is to clarify this de facto situation with a new legal framework."
Which brings us to the current political state of play: The Justice and Development Party that Erdogan co-founded is now led by Ahmet Davutoglu, who was appointed prime minister by Erdogan for the third time in 13 months this week after failing to cobble together a coalition in the wake of the watershed vote that ended its one-party rule.
Erdogan's support is now eroding in two core constituencies, according to pollster Ozer Sencar, head of the MetroPoll survey agency: Kurds, who voted for AKP until switching en masse in the June 7 election to the pro-Kurdish HDP, and small businessmen, who think Erdogan "is punishing them by dragging Turkey into an economic dead end."
Once seen as AKP's biggest asset, "Erdogan knows the AKP is losing votes when he speaks too much and interferes in everything," Sencar said. "But he can't keep silent. Mr. Erdogan sees himself as the state, and there is no going back from there."
Before it's here, it's on the Bloomberg Terminal.
LEARN MORE