Deutsche Bank Libor Traders Said to Be Interviewed by SFO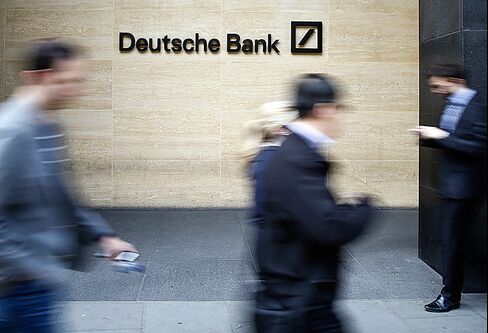 U.K. prosecutors have interviewed current and former Deutsche Bank AG traders in recent weeks as a possible precursor to more charges in the Libor probe, according to two people with knowledge of the situation.
A number of traders have been questioned by investigators at the Serious Fraud Office about the manipulation of the London interbank offered rate and its euro counterpart, said the people, who didn't want to be identified because the interviews were private. At least one banker was interviewed under caution, meaning any statements can be used against them in court, said one of the people.
Deutsche Bank paid a record $2.5 billion fine and fired seven employees to settle U.S. and U.K. investigations over its role in rigging Libor in April. Some traders are also facing individual fines from the U.K. Financial Conduct Authority, with a number of the sanctions on hold until later this year while the SFO decides if it wants to prosecute.
The interviews come weeks after Tom Hayes, a former UBS Group AG and Citigroup Inc. trader, became the first person convicted by a jury over Libor. The day after Hayes was sentenced to 14 years in prison, SFO Director David Green told Bloomberg he's planning to bring more charges by the end of the year.
Officials at Deutsche Bank and the SFO declined to comment on the interviews. No current or former employees from the Frankfurt-based bank have been charged.
Previous Interviews
The U.K. prosecutor has previously interviewed some ex-Deutsche Bank employees in its investigation. Former trader Christian Bittar was questioned earlier this year, a person with knowledge of the situation said at the time. Ex-Deutsche Bank trader Guillaume Adolph, who lives in France, declined a request for a voluntary interview, said another person involved in the probe. Adolph didn't immediately respond to a request for comment.
The U.S. Justice Department is also preparing cases against former Deutsche Bank employees for Libor manipulation and could bring charges this year, people with knowledge of the situation said in July. The agency is investigating at least five former traders for rigging the U.S. dollar version of the interest-rate benchmark.
The German lender has been admonished by regulators in the Libor probe for delays and false statements, almost doubling its U.K. fine as a result. The case is one of several investigations Deutsche Bank is facing including currency manipulation and possible money laundering.
Before it's here, it's on the Bloomberg Terminal.
LEARN MORE