Beloved Europe Stock Loses Luster as China Boom Becomes Pain
Gamesa rallied as much as 120% this year before plunging

Sales from emerging markets helped the company double profit
Europe's highest-flying stock this year is seeing the knock-on effect from the exodus in emerging markets.
After more than doubling earlier this year, wind-turbine maker Gamesa Corp. Tecnologica SA tumbled 22 percent through Wednesday as the outlook for global growth deteriorated and energy prices plunged further. Investors, who piled into the stock to benefit from the surging demand in China, Brazil and India, are now heading for the exit.
"People are nervous about emerging markets," said Jose Manuel Arroyas, a Madrid-based analyst at Exane BNP Paribas. "This stock is priced for future growth. If there's no growth, then the stock is expensive."
China's currency devaluation two weeks ago prompted a rout across asset classes and geographies, leaving even the most promising stocks at risk. Anything with an emerging-market tilt has faced the worst pain in the slump that has erased about $8 trillion from equities worldwide in a couple of weeks. Gamesa was among those that suffered the most in Europe as commodity-related companies tumbled more than any other industry.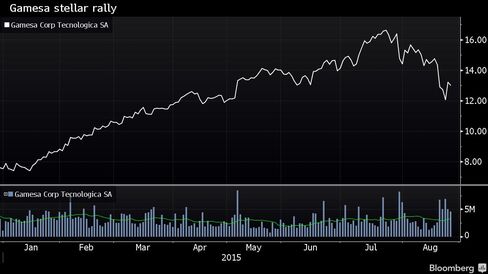 While Gamesa is still up 72 percent this year, it's lost its spot as the top performer. As of yesterday, it had the third-biggest gain in the Stoxx 600, making way for Betfair Group Plc, which just announced a merger with Paddy Power Plc, and Italy's Banca Popolare di Milano Scarl.
Mark Freshney, an analyst at Credit Suisse Group AG, lowered his recommendation on Gamesa shares last week to the equivalent of a sell. The company is already strong in India, China, Mexico and Brazil, and a further improvement is unlikely, he said.
Star Alignment
Shares are "pricing in an alignment of the stars," London-based Freshney said in an Aug. 20 note. "We fail to see how fundamentals can improve further."
The stock trades at 19.7 times estimated profit, 33 percent higher than shares on Spain's benchmark IBEX 35 Index and more than its rival Vestas Wind Systems A/S.
A Gamesa representative declined to comment on the move in shares.
The stock was unfairly battered at the end of 2014 for being classified as an oil-and-gas company, according to Exane's Arroyas. That's a concern that traders had brushed off this year, pouring money into wind-turbine makers amid greater clarity on subsidies from governments. Vestas Wind Systems also surged -- though less than Gamesa -- before plunging 11 percent from its high in July.
While Gamesa will see continued profit growth as Europe tries to become more self-sufficient in energy and Brazil seeks to diversify from hydropower after a drought, currency fluctuations remain a risk, according to Societe Generale SA's Alok Katre.
"Gamesa benefits from a weaker euro," the analyst said from Bangalore, India. "If we see a sustained structural weakening of emerging-market currencies versus the euro, that would cause concern."
Before it's here, it's on the Bloomberg Terminal.
LEARN MORE