Bear Market Looms for Nigeria Stocks as Oil's Drop Knocks Growth
Shares tumble to six-month low as second-quarter growth slows

'Political stagnation' compounds worries for investors
Nigerian equities fell for a third day to head enter a bear market on concern that oil prices near a six-year low will deepen the country's economic slowdown.
http://resource.bloomberg.com/images/234712214?height=675;width=1200
The Nigerian Stock Exchange All Share Index slid more than 21 percent from this year's closing high on April 2, meeting the common definition of a bear market. The gauge slipped 2.3 percent to 28,137.65 by the close in Lagos, the commercial capital, on Wednesday, the lowest level since Feb. 16.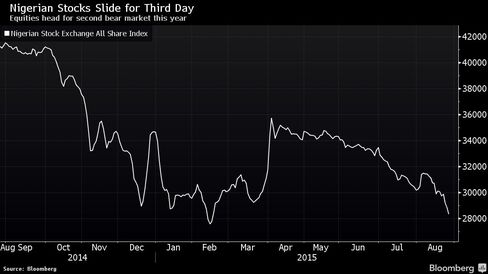 Shares in Africa's largest economy and oil producer tipped into bear territory for the second time this year as President Muhammadu Buhari's administration struggles to cope with crude prices that have tumbled more than 35 percent in 2015. Growth is slowing with Buhari, who took office in May, yet to name a cabinet and articulate his economic vision for the country, which relies on oil for more than 70 percent of government earnings.
The slide in crude prices, deterioration in government finances and "continued political stagnation" are weighing on Nigerian assets, David McIlroy, chief investment officer of Alquity Investment Management Ltd., which oversees $60 million of African assets, said by phone from London.
"We're still waiting on line of sight in terms of the direction of economic policy," he said. "Until we see that, foreign investors will continue to be quite cautious in the market, despite the fact that it is trading at reasonably attractive valuation levels."
Defending the Naira
Investors are also being deterred by the central bank's efforts to defend the naira through trading restrictions to prevent dollars from fleeing the economy, he said. The naira has been stable, trading under 200 per dollar over the past three months, following a series of measures by the regulator to halt a 20 percent decline in the currency in the 12 months through Feb. 12 to a record low of 206.32 per dollar.
The exchange rate is unsustainable because of falling oil prices and a rout in global markets this week, Segun Agbaje, chief executive officer of Lagos-based Guaranty Trust Bank Plc, Nigeria's biggest bank by market value, said on Tuesday. A devaluation of about 10 percent against the dollar would be enough for the naira to settle, he said.
The 14-day relative strength index of the all share dropped to 19, below the 30 level some traders and analysts deem as oversold for a third day.
Guaranty Trust, whose shares are down 21 percent this year, is among stocks favored by Alquity's McIlroy, as are Zenith Bank Plc, which forecast an 18 percent rise in profit this year, and Dangote Cement Plc, Africa's biggest cement producer.
"There's certainly value in select stocks," he said. "Guaranty Trust and Zenith Bank both delivered, under the circumstances, reasonably impressive results. For a longer-term play, Dangote Cement, both in terms of its Nigeria operations and also, increasingly important, pan-African operations, would be the first port of call for investors."
Before it's here, it's on the Bloomberg Terminal.
LEARN MORE