Art Collectors Were Busy Looking for Liquidity During Market Rout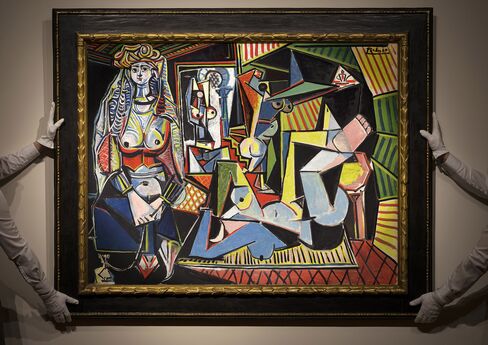 Art dealer Asher Edelman's vacation in Comporta, Portugal, was interrupted Monday by inquiries from clients as global equities plunged.
Some asked about borrowing against their art collections from Edelman's art-financing company ArtAssure Ltd. Others wanted to sell works. Everyone was looking for the same thing: liquidity.
"There are many margin calls," Edelman said in a phone interview, adding that no deals were struck yet.
Boutique lenders said they were unusually busy in late August, when most of the art world is on holiday. Global equities and the art market have become intertwined as art prices have soared and more wealthy buyers view their collections as an investment they can borrow against.
"Ten years ago no one in the art market paid close attention to these corrections in the stock market," said Elizabeth von Habsburg, managing director of Winston Art Group, an independent art appraisal and advisory firm. "Now clients respond immediately."
In 2014, the art market surpassed its pre-recession high with 51.2 billion euros ($54.1 billion) in global sales, compared with 48 billion euros in 2007, according to the latest figures by the European Fine Art Foundation. In May, a Pablo Picasso painting fetched $179.4 million, the highest price ever for a work at auction.
Next Test
With many galleries closed for vacation, the immediate impact of the stock market's selloff on prices and sales was hard to gauge. New York's semi-annual auctions in November will be the next big test of the art market, dealers and lenders said.
"The main question: Is this the correction everyone has been waiting for?" said Ian Peck, founder and chief executive officer of Art Capital Group, a New York-based firm that lends against art and collectibles.
Global auction results in the first half of this year slid 5.8 percent to $8.1 billion from the same period in 2014 because of weak sales in China, the U.K., France and Germany, according to New York-based Artnet.
Art financing has expanded with the rest of the market as investment banks including Citigroup Inc., JPMorgan Chase & Co., Morgan Stanley and Goldman Sachs Group Inc. offer loans backed by art to clients. In 2014, Winston Group did $1 billion worth of appraisals for loans using art as collateral, double the previous year, von Habsburg said.
"Collectors are finally realizing they can make their art work as an asset that they can get liquidity out of" to pay off other loans, buy a business, life insurance or more art, von Habsburg said.
More Calls
While boutique firms like ArtAssure reported a higher volume of art-related calls from clients on Monday, several banks said they didn't. During market corrections, banks sometimes limit loans backed by art or add restrictions, said Evan Beard, art and finance leader at Deloitte Consulting in New York.
"When liquidity leaves the marketplace people will consider art loans as an option to replace volatile margin securities loans," said John Arena, senior credit executive for Bank of America's Private Wealth Management Business. He said his group -- which didn't see a spike in art loan inquiries Monday -- doesn't limit its credit exposure to art loans during market turmoil.
Iranian Artifacts
Edelman said his clients asked about the borrowing terms against works ranging from Iranian artifacts to Andy Warhol paintings. Several of Winston Group's clients asked "what can we put our money into that can increase in value in the next year that's not equities," von Habsburg said.
Her recommendation: works for under $100,000 by midcareer artists including Richard Aldrich and Yinka Shonibare, whom she described as "really solid and talented."
Frothier segments of the market will be riskier, lenders said. Art Capital's Peck said he recently inspected a collection of hot emerging artists whose prices exploded in the past year but recently started to cool off.
"The younger emerging market is very vulnerable," he said. "We will be more conservative than we were a month ago."
Collectors aren't the only ones looking for liquidity with art-backed loans. Art Finance Partners, a New York-based firm, was contacted on Monday by dealers looking to borrow money to close private sales.
Pissaro Sale
In one instance, market uncertainty spurred the seller of a painting by Camille Pissaro, with the asking price of about $500,000, to close the transaction with a dealer, who will use a loan to buy the work, said Andrew Rose, president of Art Finance Partners.
The selloff on Monday erased $2.7 trillion from the value of global equities. Volatility continued to jolt financial markets after an earlier rebound on Tuesday.
With the deadlines to consign art for the November auctions coming up, some collectors have decided to sell works rather than wait.
"Some are pulling the trigger," Rose said. "People want certainty."
Before it's here, it's on the Bloomberg Terminal.
LEARN MORE