Analyst Who Saw China Rout Says Emerging Stocks No Lure Yet
Emerging stocks cheapest vs developed peers since 2004

Sliding commodity prices mean EM stocks have further to fall
Emerging-market equities aren't the bargain they appear to be, even after valuations fell to an 11-year low relative to their developed peers, according to John-Paul Smith, who has been warning of a China-led selloff for more than a year.
"Sometimes cheap isn't enough," said Smith, an ex-Deutsche Bank AG strategist who now works at Ecstrat in London and also predicted the Russian debt crisis in 1998. "The recent massive falls in commodity prices" are set to weigh further on emerging-market companies' return-on-equity and Smith shifted to a more agnostic view on market direction in the near term, according to a note published on Aug. 25.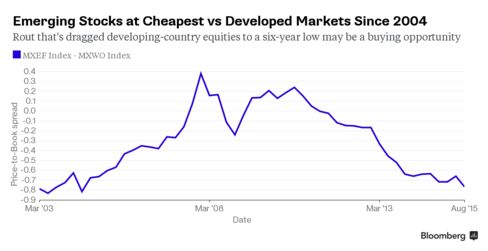 Stock markets from Hong Kong and Brazil to Russia and Saudi Arabia have tumbled since China devalued the yuan two weeks ago, triggering speculation a slowdown in the world's second-biggest economy will undermine global growth. For commodity-dependent economies, the situation is worsened by oil's slide to a six-year low.
In May last year, while still working at Deutsche Bank, Smith told clients that he was maximum underweight on China stocks and wouldn't be investing in the country at all, if he had a choice. The Shanghai Composite Index surged as much as 160 percent through June and has since dropped 45 percent. Smith has been underweight on developing countries versus the U.S. for the past five years, he said by e-mail on Thursday.
Fundamental Issues
Some technical indicators suggest it's time to buy. The MSCI Emerging Markets Index's relative-strength index traded in oversold territory from Aug. 11 through yesterday, the longest period since June 2013.
The developing-nation gauge, which has lost almost 9 percent since the yuan devaluation and is down 15 percent this year, traded at a price-to-book ratio of 1.36 on Aug. 18, compared to 2.23 for the MSCI World Index. That created the widest discount since 2004, data compiled by Bloomberg show.
None of that matters to Smith, though, who sees more fundamental problems in China and further afield.
"The prospect of a further devaluation and monetary easing increase the likelihood of further capital flight that could lead to a vicious circle, whereby Chinese companies and local government financing vehicles run out of financing options, raising the risk that some significant entities may finally start to go bust, with very negative implications for the broader financial system," he said.
Russian Bear
If he's right, it will be the second time he's called a major financial meltdown correctly after predicting in 1998 that Russia would be forced to devalue the ruble and default on $40 billion of domestic debt later that year. He wasn't so lucky a decade later when he said the sub-prime mortgage crisis was over just before the worst financial crisis since the Great Depression.
He's not the only strategist holding fire before buying back into emerging-market stocks this time.
"The market focus is still moving gradually from Chinese growth worries to
Chinese and emerging-market financial-system risk," Maarten-Jan Bakkum, a senior emerging-markets strategist at NN Investment Partners in The Hague, said by e-mail on Aug. 25. "In such an environment, we have to be very careful not to buy too early."
Before it's here, it's on the Bloomberg Terminal.
LEARN MORE