1) No let-up in China
A day after an ugly 9% decline on the Shanghai Composite sent shockwaves around the world, China's benchmark index suffered another tough session and prompted the People's Bank of China to cut its benchmark interest rate.
The latest fall saw stocks drop below 3,000 for the first time in eight months, and extended what is now its biggest slump since 1996. The market has lost 43 percent since it peaked in June after a period of extraordinary growth. Something new happened today: many markets around the world shrugged as China slid.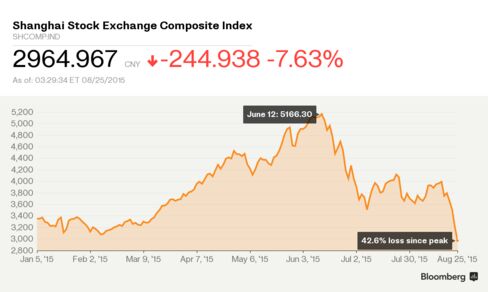 2) Hong Kong breaks away
Throwing off the shackles of the woes on the mainland, Hong Kong's Hang Seng index managed to stem the losses and post a small but vital gain on the day.
Investors have seen the Hang Seng fall almost 25 percent since this year's peak, but in a performance played out elsewhere in Asia – there were also rises in Taiwan, Malaysia, Indonesia, Singapore and on Australia's ASX 200.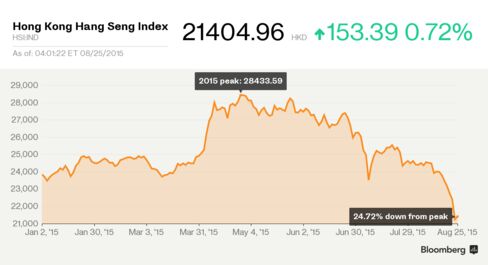 3) Europe finds its feet
Investors in Europe were nervous after sharp falls on Monday, but early trading saw solid gains across the board. London, Frankfurt and Paris were up between 2 percent and 3 percent in the first hours of trading.
Almost all individual shares in the Stoxx 600 were up, and there was a 9.5 percent boost for Swiss pesticide firm Syngenta as news broke that Monsanto was back with an improved offer.
"What happened yesterday was purely panic," said Peter Dixon, a global economist at Commerzbank in London. "Investors realized it was overdone and that it may represent a decent buying opportunity."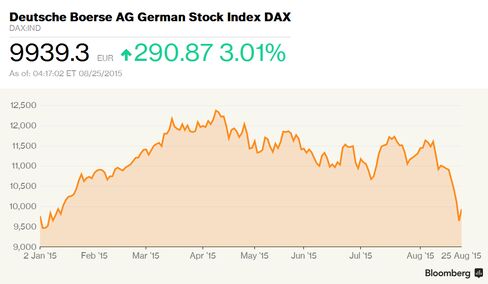 4) Commodity relief
Flush from a collapse in everything from oil to aluminum to cotton, commodity bears are taking a break.
A measure of returns from 22 raw materials edged higher after tumbling to the lowest level since 1999 on Monday on concern a slowing Chinese economy will exacerbate supply gluts. Shares in miners and explorers outside China including Glencore, Fortescue Metals Group and BP recouped some losses after a selloff that wiped $2.7 trillion from global equity markets.
"Short-term stabilization is possible but that doesn't mean it cannot fall further," Dominic Schnider, head of commodities and Asia-Pacific foreign exchange at UBS Group's wealth-management unit in Hong Kong, said by phone.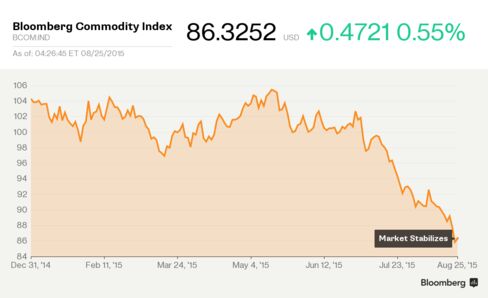 5) The euro as a haven
The notion that the euro could be a haven in times of turmoil seemed preposterous just a few weeks ago. Yet that's exactly what it's become as the world gets rocked by everything from devaluations to bear markets in stocks.
The euro has surged more than 4 percent against a basket of developed-nations peers in the past month, the biggest gain in the group.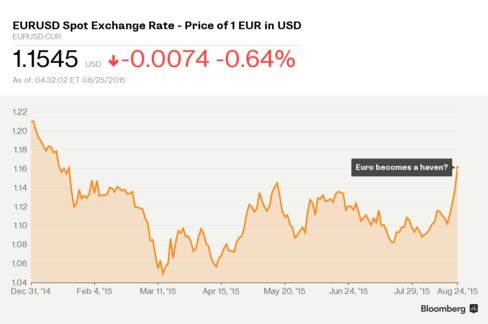 It's not so good for emerging market currencies: Pakistan's rupee sank to the weakest level since March 2014 as the nation became Asia's latest to devalue its currency in a bid to support exports.
By Lukanyo Mnyanda, Rachel Evans, Sharon Cho, Khurrum Anis, Adam Blenford and Tim Coulter
Before it's here, it's on the Bloomberg Terminal.
LEARN MORE