U.S. Seeks to Expand China Navy Code to Coast Guard, Swift Says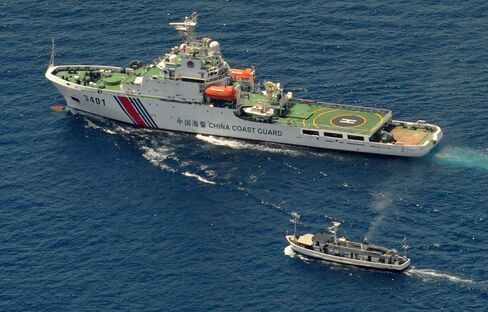 The U.S. is seeking to expand the use of protocols agreed with China to avoid flare-ups during unexpected naval encounters to include Chinese coast guard vessels, the commander of the U.S. Pacific Fleet said.
The U.S. and China have agreed to a naval code of conduct that is "working quite well," Admiral Scott Swift said on a conference call from Kuala Lumpur. "The U.S. is interested in expanding this mechanism to the Chinese coast guard, as well."
Including China's so-called white-hulled fleet would be recognition of the role the coast guard plays in executing China's foreign policy. It's the world's largest deep-water coast guard, according Ryan Martinson, a researcher at the China Maritime Studies Institute of the U.S. Naval War College.
China has been using its coast guard to help enforce its claims to more than 80 percent of the South China Sea. China has reclaimed more than 2,900 acres of land to expand seven of its eight outposts in the waters as of June this year, according to a Pentagon report released this month. Southeast Asian foreign ministers this month warned that competing territorial claims in the South China Sea risk upsetting regional stability.
"Foreign observers generally agree that by deploying unarmed coast guard ships -— white hulls —- to pursue its interests, China is able to leverage its growing power while avoiding international opprobrium detrimental to other foreign-policy goals," Martinson wrote in the April edition of the U.S. Naval Institute "Proceedings" publication.
"Many of the encounters at sea that my naval ships have are as frequent with the Chinese coast guard -- and other coast guards -- as it is with the Chinese navy ships," said Swift, who took over command of the fleet from Admiral Harry Harris in May. Harris was promoted to commander of the U.S. Pacific Command.
Island Building
Swift is making an introductory trip to the Asia-Pacific region, where he has visited Australia, Japan, Malaysia, New Zealand, the Philippines and South Korea. He'll also visit Singapore this week.
Earlier this year, Harris came to prominence after describing China's South China Sea island-reclamation program as "a great wall of sand." China's land grab dwarfs those of other claimants, according to the Pentagon. Vietnam has claimed a total of 80 acres; Malaysia, 70 acres; the Philippines, 14 acres; and Taiwan, 8 acres.
"What is most troubling from the Chinese perspective is the scope and scale of the reclamation," Swift said.
Five other countries have rival claims to parts of the South China Sea, which China has said can only be resolved through bilateral negotiations.
Swift said claimants should attempt a multilateral approach to dispute resolution "and not allow the use of coercion or force as a lever to resolve differences for the benefit of one party."
Before it's here, it's on the Bloomberg Terminal.
LEARN MORE