Trudeau Breaks From Pack on Promptly Balancing Canada Budget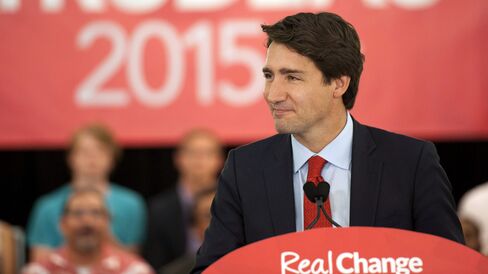 Liberal Leader Justin Trudeau will not commit to balancing Canada's budget immediately, saying it would be wrong to claw back billions in government spending at a time when economic growth is sluggish.
The pledge puts him at odds with his opponents in Canada's narrow three-way election race. New Democratic Leader Tom Mulcair pledges to balance next year's budget if his party is elected and Prime Minister Stephen Harper warns of "permanent deficits" under each of his challengers.
With Canada grappling with the rout in global markets, Trudeau said this year's budget is already in deficit -- contrary to Harper's claims. Trudeau would not say how quickly he would return to surplus if elected in the Oct. 19 vote, arguing now is not the time to remove government money from the economy.
"We're focused on growing the economy and getting back into balance," Trudeau said at a campaign stop in Toronto. "Like I say, how long that will take will depend very much on Mr. Harper and the mess he has left behind, along with the global situation."
The Liberal leader was joined by key figures of his economic team and former Prime Minister Paul Martin.
Economic Turmoil
Canada's dollar plunged to the lowest in a decade Monday as slowing global growth sparked a worldwide market sell-off. Falling oil prices have also prompted investors to raise bets the Bank of Canada will reduce interest rates a third time this year in its Sept. 9 rate decision.
"The fact is now is not the time to remove millions and billions of dollars from the Canadian economy," Trudeau said. "Now is the time to grow the economy, to invest in the middle class and those working hard to join it."
Harper trigged the election, the country's longest since 1872, at the beginning of this month and has been eager to campaign on the economy.
Speaking Tuesday near Hamilton, Ontario, Mulcair -- who polls have shown to be regularly out-pacing Trudeau as Harper's top rival -- distanced himself from the Liberal leader by committing to balancing the 2016-2017 budget.
"Our first budget will be a balanced budget," Mulcair said, adding "governing is about priorities."
Harper's Warning
Speaking in Quebec City, Harper repeated a theme of his campaign for a fourth term, warning that changing governments would be risky at a time of global instability.
"This would be the worst time to suddenly fly off on a completely different plan, one based on extraordinarily high levels of spending, to be financed by increased taxes and permanent deficits, and that is what the other guys are planning," Harper said. "That would be demonstrably bad for Canadians' long-term prospects."
Trudeau has sought to distinguish himself from the incumbent Conservative leader by attacking Harper's record of consecutive budget deficits. There were seven before this year's budget, which projected a small surplus. However the country's budget watchdog now says it has fallen into deficit.
Liberal Positioning
The Liberal leader has also sought to distinguish his party by emphasizing high-profile candidates he has recruited. On Tuesday, Trudeau took aim at one of the star nominees of the left-leaning New Democratic Party, Andrew Thomson, a former finance minister in the province of Saskatchewan who balanced the budget.
"Well, I'm proud to have Ralph Goodale, a man from Saskatchewan who balanced the budget for all of Canada," Trudeau said, referring to a long-time Liberal lawmaker and former finance minister who hails from the province.
A poll released Tuesday by Ottawa-based Nanos Research shows the Conservatives and Liberals tied at 30 percent support nationally, with the NDP close behind at 29 percent. Those results are roughly in line with national averages compiled at the end of last week by polling aggregator ThreeHundredEight.com.
Trudeau's economic policy includes overhauling child benefit payments to direct more funding to low-income families, cutting the middle-class tax rate, increasing the rate for the highest income tax bracket and maintaining the current corporate tax rate.
Before it's here, it's on the Bloomberg Terminal.
LEARN MORE