The Utah Desert Is an Off-Road Driver's Dream
An otherworldly landscape provides the perfect backdrop for an automotive adventure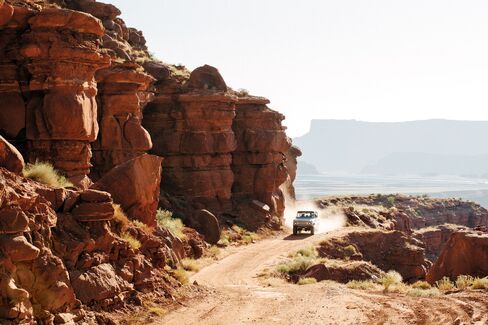 Enjoy the martian scenery around Moab, Utah, by hurtling through its orange cliffs and jarring riverbeds in a four-wheeled mountain goat rig.
The off-road route to take is Chicken Corners, a 21-mile course about 50 miles south of town. It's accessible as a quick morning trip but has enough personality to keep even advanced drivers busy all day. (Beginners should take a few lessons first; Land Rover runs off-roading schools out of four North American locations, including Vermont and California.) The surface shifts from gravel to creek beds to rocks to pavement, and there are multiple high-shelf roads and ledges to maneuver.
Go in the fall—it's sweltering during the summer. Head west from Moab on Kane Creek Boulevard. The fun starts where the pavement stops. You'll follow the Colorado River canyon south of town, climb Kane Creek to the Hurrah Pass summit, and then descend to the river. It all dead-ends 400 feet above the water, across from Dead Horse Point State Park, where they filmed the climactic finale of Thelma & Louise. The brittle contours will astound. Pay attention to the path—it's easy to get distracted by the glorious red rocks.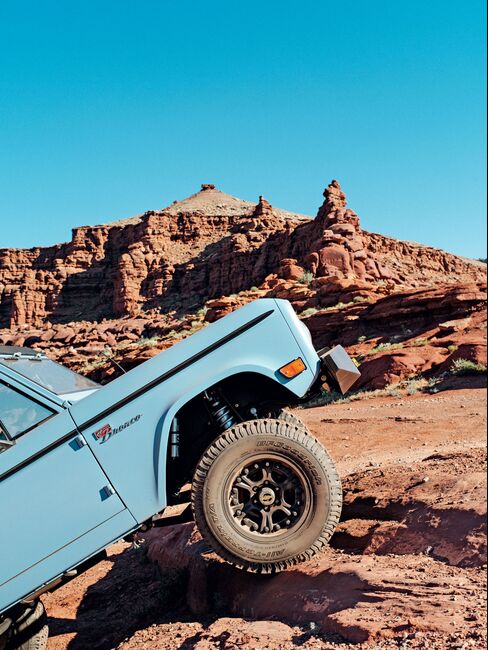 Get Ready to Off-Road
1. Find a vehicle with high clearance, such as a Land Rover Defender, Mercedes-Benz G-Wagen, or Toyota Land Cruiser.
2. Protect the underbody of your SUV with steel skid plates. You can have them installed at most garages. At the very least, cover the gas tank, differentials, and oil pan.
3. Forget street tires. Get a set of all-terrain or mud-terrain ones.
4. Make sure to have a tow hook or trailer hitch on your rig. Just in case.
The Car to Do It In
Pictured here is the Icon BR, a totally modern off-roading model built on a 1969 body using all-new dead-stock components. Icon, a Los Angeles-based boutique car company led by builder Jonathan Ward, creates one-of-a-kind machines and specializes in vintage SUVs. The BR's engine is a fuel-injected 2015 Mustang GT Ford Coyote V8 that gets 412 horsepower and more than 390 pound-feet of torque at its max. Driving it feels like commandeering a tank with a muscle-car heart. Options include sport brakes, front- and rear-locking differentials, a "bikini" style top, and a manual transmission. Price: $225,000
Before it's here, it's on the Bloomberg Terminal.
LEARN MORE