Thalys Train Attack Was Probably Premeditated, Prosecutor Says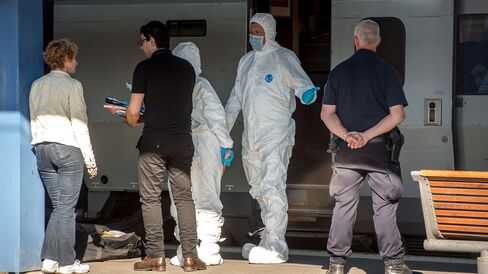 Ayoub El Khazzani's actions suggest his Aug. 21 attack on a Thalys train en route to Paris was premeditated, Paris Prosecutor Francois Molins said Tuesday.
Molins said a series of decisions point to his premeditation, notably El Khazzani's refusal to take an earlier train at a lower price. French police started a criminal investigation into alleged acts of terrorism, Molins said in a press conference in Paris.
El Khazzani also used a cell phone bought the day of the attack to listen to an audio file praising combat on board the train, just before appearing in the coach with an AKM rifle, Molins said.
Under police questioning, the suspect maintained that he didn't plan a terrorist act before invoking his right to remain silent. He told investigators he wanted to hold passengers for ransom before jumping from the train, Molins said. The prosecutor said El Khazzani's statements were "delusional."
Before it's here, it's on the Bloomberg Terminal.
LEARN MORE